Meatless Mondays can be as quick and easy as this olive oil based pasta ready in just 20 minutes!
You can even add grilled vegetables and your favorite herbs for a heartier, fuller meal.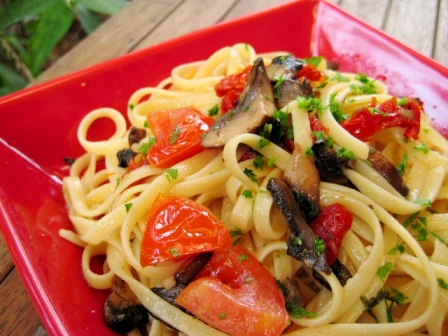 Ingredients
200 gram uncooked linguine pasta
4 tablespoon olive oil
4 tablespoon chopped garlic
½ cup chopped portobello mushroom
½ cup chopped red tomatoes
Salt and pepper to taste
3 tablespoon parsley, chopped
3 tablespoon basil, chopped
Instruction
1. Cook pasta al dente. Drain and set aside.
2. Heat olive oil in a pan, toss in garlic then the mushrooms, let it sit for about 2 minutes until aroma is released.
3. Add in tomatoes, salt and pepper.
4. Toss in pasta and herbs until ingredients are well distributed.
Option:  Add chili flakes for that zing.
Comment via Facebook