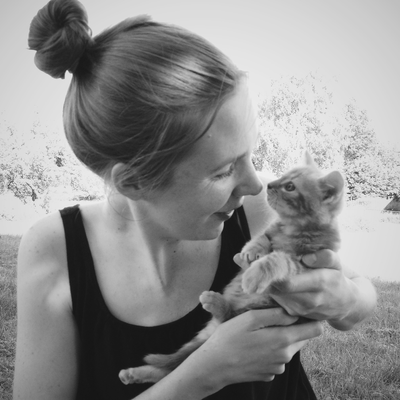 About:

Vegan for the animals, the planet and my health. Where to eat in Stockholm: https://pinterest.com/treemelody_/vegan-stockholm/

Veg Status:

Vegan

Location:

Stockholm

Joined:

26 Oct 2015

Religion/Path:

Yoga

Zodiac:

Capricorn

My Website:

Last Login:

19 Apr 2018

Profile Views:

510
More About Me
Reasons why I prefer to eat vegetarian or vegan:
I believe that living beings are not commodities. I don't want to have a part in the torture and killing of innocent, sentient individuals in order for them to become food or a piece of clothing when there are other alternatives. Choosing a vegan lifestyle is more in tune with my ethical beliefs and I feel healthier. The meat and dairy industry is also one of the main causes of climate change which is another reason for why I'm vegan.
I joined HappyCow Members Community because:
I love food and am always looking to discover new places to eat and shop! Another passion of mine is to travel and I have used the HappyCow app on my trips to Prague, Berlin and Utrecht with great success. The reviews are super helpful in order to find the best eateries and grocery/health food shops.
Here are some places I've been that I liked... and places that I would like to visit one day:
I really enjoyed Prague which I visited in April of 2015. Lots of veggie places and the whole city is like something from a fairytale. I also liked Utrecht just outside of Amsterdam. It is host to the annual music festival Le Guess Who? and had vegan catering - yippee! Didn't manage to see so much of the city during daylight, next time! Would love to go back to California and especially San Fransisco and its surroundings (such as Muir Woods). Barcelona is a really cool city as is Berlin with its amazing range of vegan restaurants and shops. I would like to visit Bali for the incredible (vegan) food that is part of their everyday lifestyle. Sun-ripe, fresh produce right off the tree which I imagine has so much more flavour than imported fruit and veg. Japan and Vietnam are also on my list as I really like their cuisine and want to learn more about their culture. Portland, Copenhagen, Budapest, South America, Canada... Too many places to list!
Some of my favorite veg*n foods include:
Sesame & almond-marinated tofu, Vegusto parmesan, zest pesto, hummus, dark chocolate, raw cake with date & nut base....
Here are some books, movies, magazines, and my favorites that I would recommend to other HappyCow members:
I can recommend two YouTube videos that turned me over to veganism. The first was Melanie Joy's TED Talk which gave me a whole new perspective on how to view meat-eating as an ideology "Carnism". The other was Gary Yourofsky's speech. He is a very skilled rhetorician with a sense of humor and I find it interesting to listen to his argumentations for veganism. The documentary Cowspiracy is a real eye-opener which everyone should watch. It portrays the narrator's own discovery of the horrors of the meat and dairy industry and its effects on the planet. The viewer is taken along on the narrator's inquisitive and educative journey and his transition into veganism. It is a humble, curious approach to the subject. There are several books on veganism that I would like to read for example Melanie Joy's "Why We Love Dogs, Eat Pigs, and Wear Cows: An Introduction to Carnism: The Belief System That Enables Us to Eat Some Animals and Not Others", Peter Singer's "Animal Liberation" and "How Not to Die" by Dr. Michael Greger.
All images used on this site are user uploaded, obtained through what is believed to be not subject to copyright, or by Creative Commons usage. If your image was used without permission, please contact us.