Vegan & Vegetarian Restaurants in England (2456)
(See also: Channel Islands, Isle of Man)
London postal code areas / London boroughs:
Central London includes: "The City of London", "The Square Mile", Belgravia, Bloomsbury, Buckingham Palace, China Town, Fitzrovia, Great Portland St, Grosvenor Square, Harley St, Soho, St. James, Tottenham Court Rd, Marylebone, Mayfair, Piccadilly, Oxford St, Pimlico, Regent's Park, Regent St, Westminster, Whitehall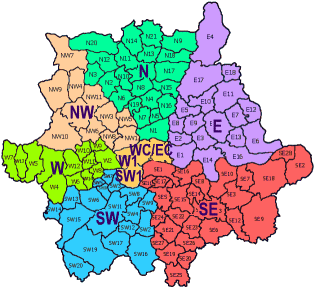 Home counties (around London) & Central Southern England:
Berkshire, Hampshire, Hertfordshire, Isle of Wight, Middlesex, Surrey, West Sussex
---
Southwest England:
Avon, Cornwall, Devon, Dorset, Somerset, Wiltshire, Channel Islands
---
The Midlands (Central England):
Bedfordshire, Buckinghamshire, Derbyshire, Gloucestershire, Herefordshire, Leicestershire, Lincolnshire, Northamptonshire, Nottinghamshire, Oxfordshire, Shropshire, Staffordshire, Warwickshire, West Midlands, Worcestershire
---
Northwest England:
Cheshire, Cumbria, Greater Manchester, Lancashire, Merseyside,Wirral
---
Northeast England:
Cleveland, County Durham, Northumberland, Tyne and Wear
---
Yorkshire:
North Yorkshire, South Yorkshire, West Yorkshire
---
East Anglia:
Cambridgeshire, Norfolk, Suffolk
---
Southeast England:
East Sussex, Essex, Kent
---
Also See:
Channel Islands
If a town is listed in the wrong area, please email us.
More on vegetarianism, animal rights, vegetarian dining guidebooks in the U.K. at: Viva
All cities listed alphabetically:
England (2456 listings)
Spread the word! - Link to this page from your webpage, blog, facebook, or newsletter.