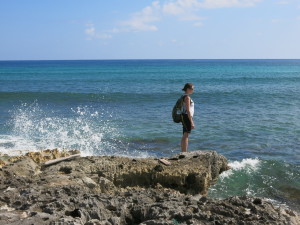 Before I started my year-long journey, which was originally to include all of Central and South America, I wondered what challenges my dietary restrictions would create and whether or not I would have to resort to surviving on bread and crackers or consider breaking my diet along the way. Luckily I haven't had to do either and have been pleasantly surprised at just how easy it has been to keep to my animal friendly diet in countries whose local population don't have a clear definition of what it means to be vegetarian, let alone what it is to be vegan. Here are Just a Pack's Top Ten Travel Tips for Vegans in Central America.
Find Hostels with Kitchens – Having a kitchen on the road is probably the best way to ensure that you are not only able to stick to your diet but also that you can cook your favorite recipes on the road. For ideas on what to cook, check out my Hostel Friendly Recipes page here.
Prepare Ahead – Health food stores can be few and far between in Central America so bringing a few things with you from home like maca, spirulina and probiotics is a good idea.
Carry Some Items – Be sure to save a little space in your backpack for items you pick up along the way that will come in handy throughout your travels, like curry powder, salt, olive oil, and brown rice. If you move from location to location quickly there is no need to throw out unused items when you can just bring them to your next destination.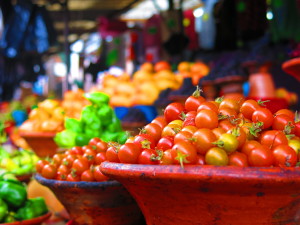 Look for Local Farmers Markets – Produce at local grocery stores in Central American can often be disappointing. Farmers markets are a great place to get the freshest and most diverse local ingredients for your vegan meals and usually at much lower prices than a supermarket. Additionally, you can often times find deliciously prepared items that are both local and vegan. Just make sure to ask about ingredients used like lard. Additionally, shopping at the farmers market means you are supporting the local community.
Discover Happy Cow – A great resource for vegans, www.happycow.net is a website devoted to sharing delicious restaurants throughout the world with vegan food. If you're visiting a new country or town, check out their website to see what is available and if you find a new restaurant with great vegan options review it or add it to the site to share with your fellow travelers.
Ask for Changes – We often ask staff at restaurants to make amendments for us while in our home towns. Substitute bacon for veggies, hold the cheese, etc. There is no reason to not do this when traveling. Just make sure to be clear about your dietary restrictions as often times throughout Central America the terms vegetarian and vegan aren't very well understood and may simply mean to someone local that you don't eat red meat.
Talk to Other Travelers – I've met a lot of backpacking veggies on the road in the last three months and some of my favorite restaurants are ones that I would have never found out about without their suggestions. The best meal I've had on my trip so far came from Leaf Eaters, a restaurant I would have never found without the suggestion of a fellow vegetarian traveler.
Yoga – Yoga Hostels or Yoga Studios are great places to meet other vegetarians and get suggestions on good vegetarian places with vegan options to eat and details on local farmers markets.
Learn Some Spanish – Before embarking on your journey to Central America, it is a good idea to learn some basics related to being vegan so you can explain your dietary restrictions to waiters, food vendors, and other locals you meet on the road. "Soy Vegetariano\a" is a good place to start.
Learn about Local Food – Another thing you may consider researching before you hit the road is local vegan fare for the countries you are planning to visit. You don't want to miss out on delicious local vegan treats like gallo pinto, bean tamales, and arepas.
Comment via Facebook