BE DISCERNING
BE DETERMINED
and dare to
BE VEGAN!
– G. Allan Henderson
……
Dorothy and Donald Watson are relatively well-known to the huge & diverse 2016 vegan community.

Today, with the help of items in our
Ernest Bell Library
& items in the
collection
of the Vegan Society UK, we will further introduce

Fay Keeling Henderson & G. Allan Henderson

, to anyone who is interested enough to read through this blog post.
Fay & Allan were also both very active in managing and in growing the young
Vegan Society UK
, right from its
founding
in November 1944.
Fay was in London for the inaugural meeting of the Vegan Society.
The six members of the new Vegan Society held their first meeting in early November at the Attic Club, 144 High Holborn, London. Wiki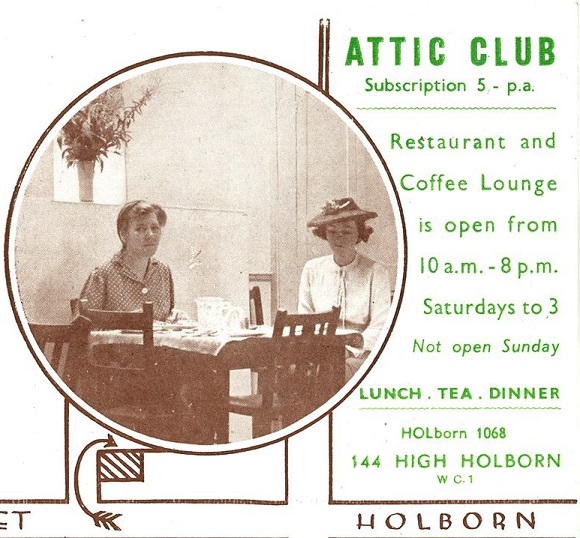 London's Attic Club, the Vegan Society started here in 1944 – source
According to fellow attendee Sally Shrigley, the day of the founding meeting was "……

a Sunday, with sunshine and a blue sky – an auspicious day for the birth of an idealistic movement

".
The Attic Club opened specially to host the meeting.
Was it Sunday November 5 or Sunday November 12?
London weather records for November 1944 – ~ ……the first week was mild and on the 5th the temperature rose above 14°C. ~ – source.
Sunday November 12, 1944 was very cold, so we are very confident about the date of the founding of the Vegan Society being Sunday November 5, 1944.
See the 22 July 2016 update – posted below
Remember that this was during WW2.

8 May 1945,

 V-E Day, 

which marked the end of World War II in Europe,

was still 6 months away.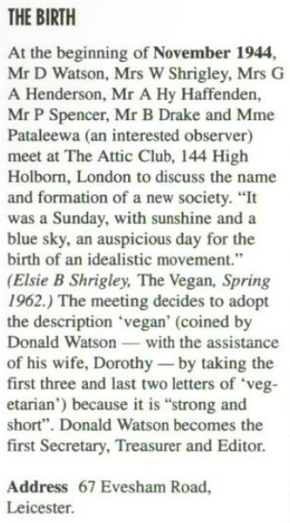 The '6 + 1' Attendees –
Mr. D. Watson = Donald Watson
Mrs G. A. Henderson = Fay K. Henderson
Mr. A. Hy Haffenden = nothing discovered about him
Mr. P. Spencer = Paul Spencer – the first compiler of  the information column Vegan Commodities
Source
– see page iii
……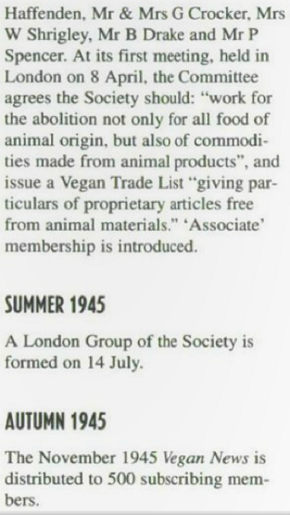 ……
70 Years Ago – 70 Vegans
In 1946, in a letter to a national newspaper,
Donald Watson
estimated that there were then approximately 70 practicing vegans living in the UK.
Some, such as
Dugald Semple
, had been 100% vegetarian, consuming no dairy or eggs, for 30+ years.
Donald Watson –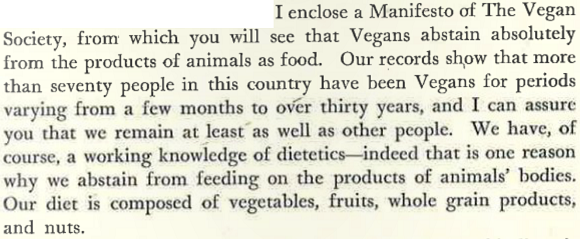 Source
– see page 9
……but animal-free published recipes were very hard to find in 1946!
……
Vegan Recipes

by Fay K. Henderson
By 1945 Fay and Allan were thinking that it was high-time for a vegan recipe book, to make it easier for folk to live & eat as vegans. So, Fay started work on testing recipes and on writing. We imagine that Allan also contributed a great deal to the project.
Good News – amplification – "pump up the volume"!

Source
– see inside back cover
……
Our Copy of Fay's Vegan Recipes
This is an item which we are extremely happy to have in our
Ernest Bell Library
collection.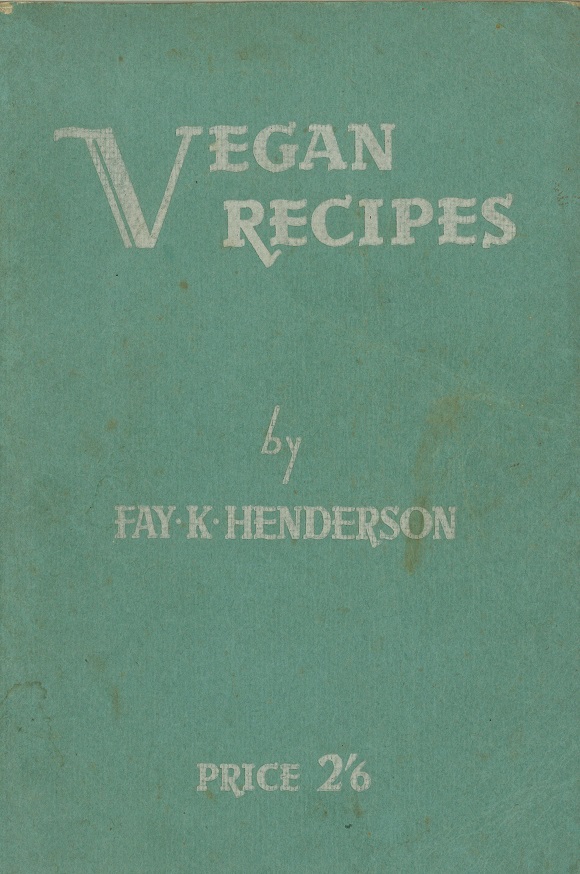 Vegan Recipes
Fay Keeling Henderson
London : H. H. Greaves 1946
68 p. ; 8º.
19 cm
With a foreword by Oliver Warnock-Fielden
Note –
Oliver Warnock-Fielden was a naturopath from Hendon, UK. 
Oliver included urine-therapy in his portfolio of treatments.
Think

Morarji Desai

 & his

1978 slot on '60 Minutes' with Dan Rather!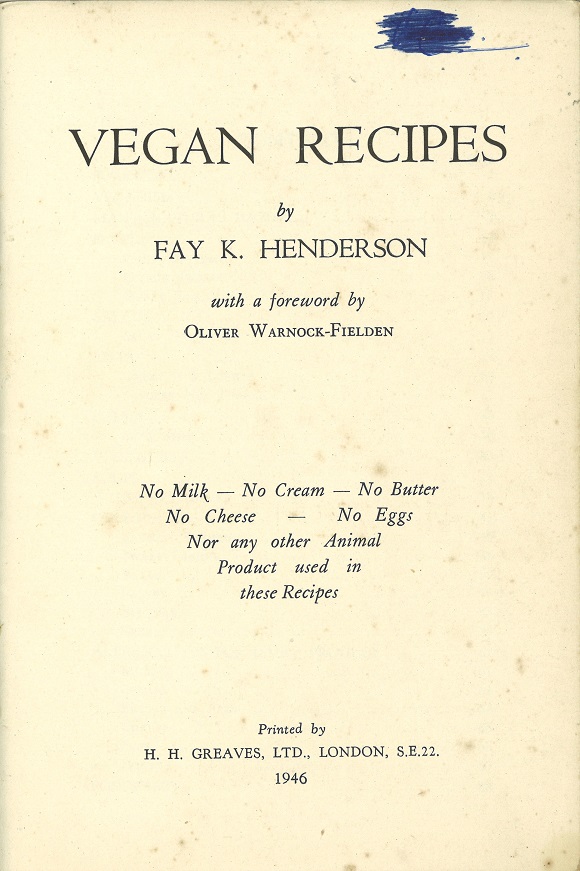 A previous owner has pasted favorite wartime recipes, and notes on foraging & living with rationing, over the Ad pages in the front & back of the book. The inscribed name is now illegible.
……
A 1946 Review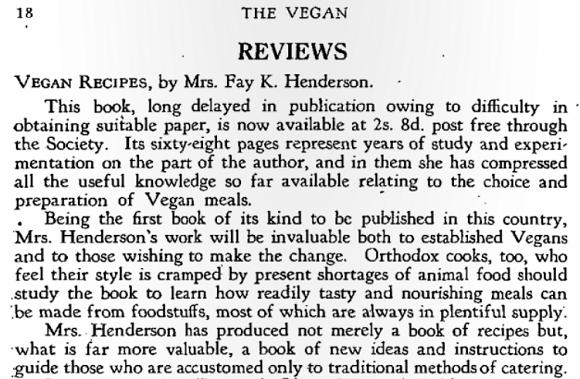 ……
Sample Pages

……
More About Fay & Allan
Fay and Allan ran the UK's first vegan guest house in Ambleside, Westmorland.

Rydal Lodge

 served as 'Vegan HQ' in the UK for several years.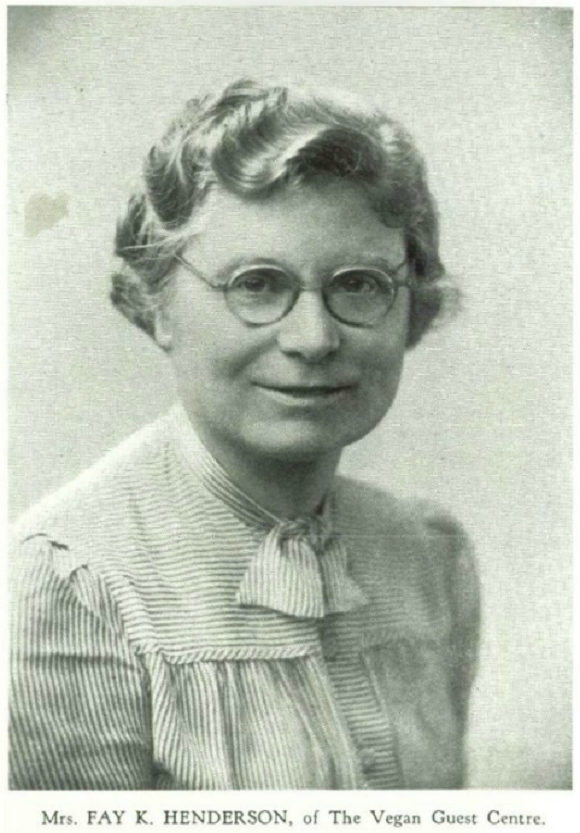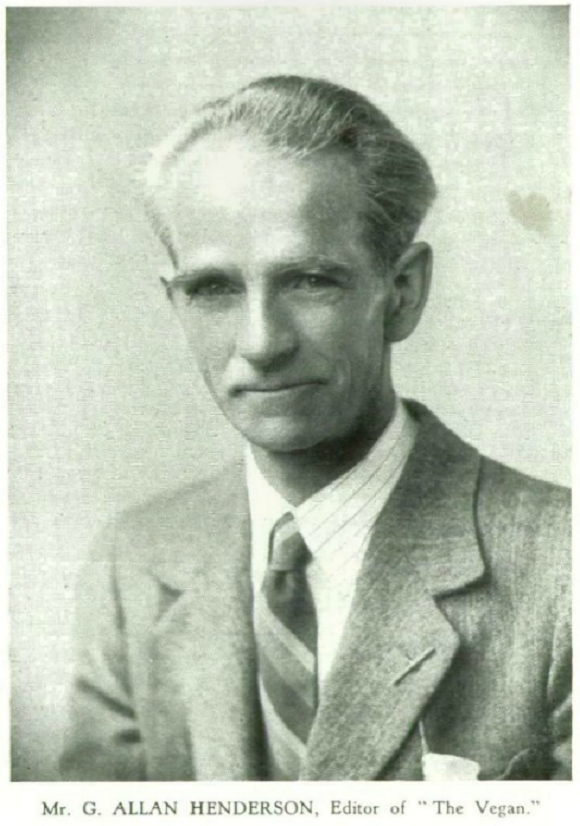 ……
Good Repetition – Allvega & Allvegan To Vegan
The 1944

creation of the word Vegan

is usually credited to Dorothy and Donald Watson.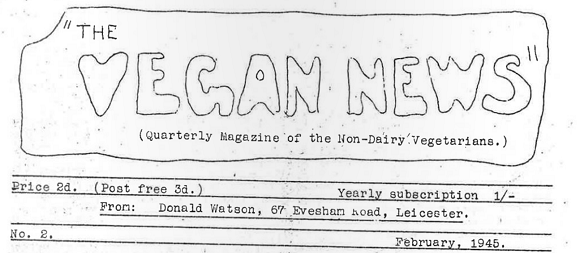 However, in the Vegan News, February 1945 edition, Donald Watson says that two of the Vegan Society's original members (founding members), Fay Keeling Henderson and G. Allan Henderson, were the source of the idea for the word Vegan.
~ Before the appearance of the first issue, Mr and Mrs G. A. Henderson suggested the name Allvega, with Allvegan as the magazine title. It was from this that the word Vegan was taken,…… ~ – more
……
Fay Reflecting in 1947
From an article – VEGAN VALUES by Fay K. Henderson, Vegan Society Secretary – in The Vegetarian, issue 4, Winter 1947:
"There has been much conjecture as to the origin of the word VEGAN and its meaning. . . in the first instance it was an attempt to get beyond the rather negative phrase "non-dairy vegetarian"  . . . being both the beginning and the end yet implying hopefully that what starts as vegetarian may finish as vegan."
[Ms. Henderson then explained how the group originally wanted to remain within the Vegetarian Society, as a non-dairy section, but this was not agreed so a separate society was reluctantly formed.]
". . . The Society has grown steadily in three years to a membership of about five hundred individuals . . . and has recently joined the International Vegetarian Union."
". . . It is a matter of some concern and regret that the modern tendency among reform groups is to break away from main societies and work independently for some slightly varying ideal. . . . This condition must be remedied if Vegetarianism is to develop the full force of its revolutionary powers. The closest co-operation and unity is therefore essential."
……
Vegan Recipes – Rarity & Reprinting
The Vegan Society originally published Vegan Recipes – but they do not have a copy now.
A note from a vegan historian –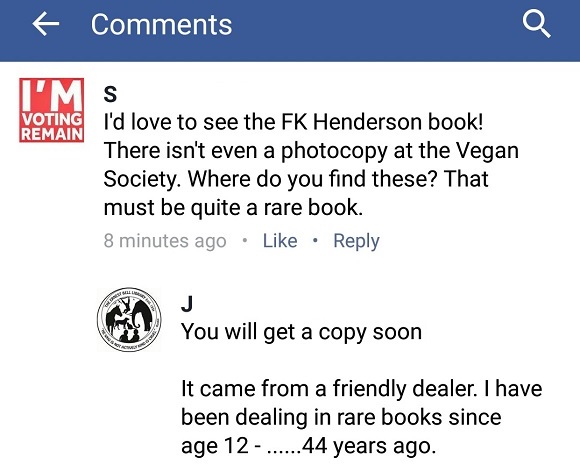 The original print run of Vegan Recipes must have been miniscule. We have read above of the challenges of even obtaining paper just after the end of World War 2.
We are currently aware of just 3 copies of the 1st printing – one is in our Ernest Bell Library – one is in The British Library in London, UK – one is in the New York Public Libraries Collection.
In early 1948 there was news of a 'Revised Edition'.

……but we have never seen a copy of this edition.
So, now we are planning how best to reprint Vegan Recipes, and how to fund this.
……
Allan Wrote the Final Page of Vegan Recipes
BE DISCERNING
BE DETERMINED
and dare to
BE VEGAN!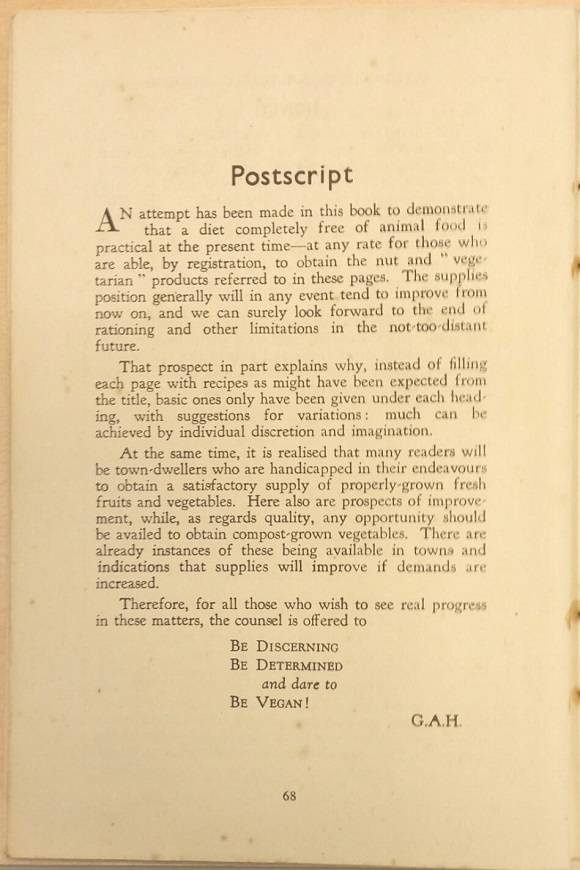 ……
22 July 2016 update
……and then we found this confirmation from Sally – in The Vegan of Autumn 1965 – p16 – full issue – here
.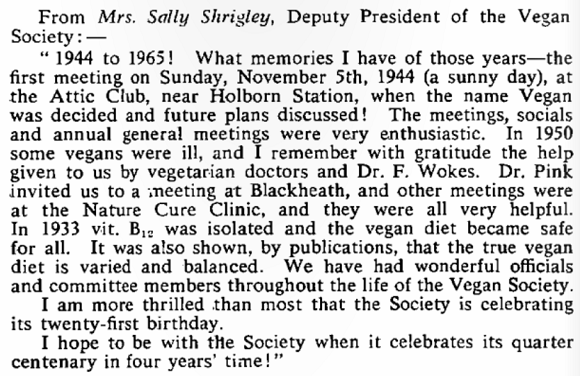 ……
Our Projects
The
Henry Salt Archive
is one of our, almost completed, projects.
The library is still strong & very active eighty years later –  its primary objectives are to: –
Collect all of Ernest Bell's book & non-book works and make them easily accessible to everyone.
Collect the literature of vegetarianism and all the other humanitarian movements in which Ernest Bell was so deeply involved.
Assist students and scholars in their research.
Introduce all aspects of Ernest Bell's life, including his writings, campaign work, influences and his circle of friends.
Undertake our own research into missing aspects of Ernest Bell's life and work.
We already have more than 300 pieces of Ernest Bell's own writings.
We are also actively building a collection of examples of promotional material, campaign material, fundraising & marketing activities etc. – related to: –
Veg(etari)an products.
Veg(etari)an books & other publications.
Veg(etari)an organisations.
Veg(etari)an businesses.
Animal rights organisations.
Animal rights publications.
Humanitarian organisations.
Humanitarian publications.
Rambling clubs run by members of the above groups & related publications.
The work of Richard St. Barbe Baker & the 'Men of the Trees' organization & its many sub-branches.
The history of Democratic Socialism.
Pre-WW2 Trade Union badges / pins / ephemera.
There are currently more than 2,000 items in the Ernest Bell Library. We will complete the cataloging of the collection as & when adequate funds are available.
 "I have little doubt that the proposal for the establishment of an Ernest Bell Library, 
which would specialize in humanitarian and progressive literature, and so form a sort of centre for students, will meet with a wide response." 
Henry S. Salt –
writing
in September 1934
……
If anyone would like more information about our projects, please send an email to: – 
humanitarianleague
(at)
outlook
(dot)
com
– or message me  through

 HappyCow

 –
……..
……
….
..
"A people without a history is like a tree without roots."
April / May 2007 – Satya
Q)
Colleen Patrick-Goudreau
– You use the phrase "historical amnesia" to refer to the fact that contemporary animal activists—and society as a whole—know nothing of the legacy of animal activism in the U.S. What are some of the effects of having "historical amnesia"? Why is it so important to know our legacy?
A) 
Diane Beers
– Animal advocacy has an amazing history, yet it is essentially an untold story. African American activists will often say, "A people without a history is like a tree without roots." Indeed, if activists don't know the history of their cause, they can have no sense of their movement's struggles, long-term strategies, achievements and heroes. In addition, they can't promote their long impressive movement to the public, and their opponents—the meat industry, medical research industry and the government—will fill the void. They have been the ones most aggressively and successfully constructing negative images and outright myths of animal advocacy that the public often believes.
……..
……
….
..

If you are a Tweeter, please consider sending this post out to your friends.
Thank you! 
……..
……
….
..
Question from a reader – Why are there sometimes more than 30 hyperlinks 
in your blog posts?
Answer – We like to give folk the option of going a tad deeper into the subjects discussed. We also really like English!
tad
= a small amount of something. Origin – late 19th century (denoting a small child): origin uncertain, perhaps from tadpole.
Mae West's credo: "Too much of a good thing is wonderful!
credo

= an idea or set of beliefs that
……..
……
….
..
From 25 Vegans – ……to Multi-Millions
1944 – The new Vegan Society had
25
members.
1946 = 2016 – exactly 70 years ago – Donald Watson estimates that there were
70
vegans in the UK – see higher up this post.
.
.
2006 – there were an estimated
150,000
vegans in the UK.
2016 – there were an estimated
542,000
vegans in the UK &
many millions more
worldwide!
THE TELEGRAPH – 18 May 2016 –

more.
Some 542,000 people aged 15 or over – more than one per cent of the population – have adopted a plant-based diet, up from 150,000 in 2006. According to the Vegan Society, the survey proves that veganism is now one of Britain's "fastest growing lifestyle movements".
……..
……
….
..
Final Note For Today
H. H. Greaves Ltd.

– 25 Years of Printing for Vegans
In 1946 H. H. Greaves Ltd. printed Vegan Recipes and also started to print Vegan News.
Apologies for the poor quality image!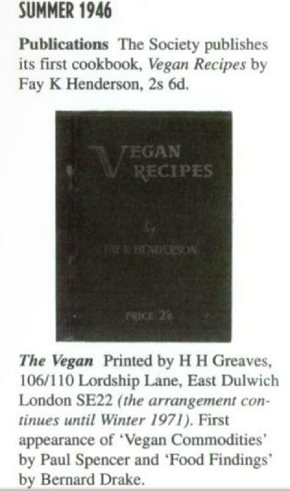 Comment via Facebook