CactusCat, a modest cafe situated in the heart of Barcelona, Spain, has been rated as the top vegan restaurant worldwide for two consecutive years. We asked founders Carlos and Gilbert to reveal their story. Keep reading for stories on profound career shifts, changes in Barcelona's vegan community, and a message specifically for you, a member of the HappyCowmunity.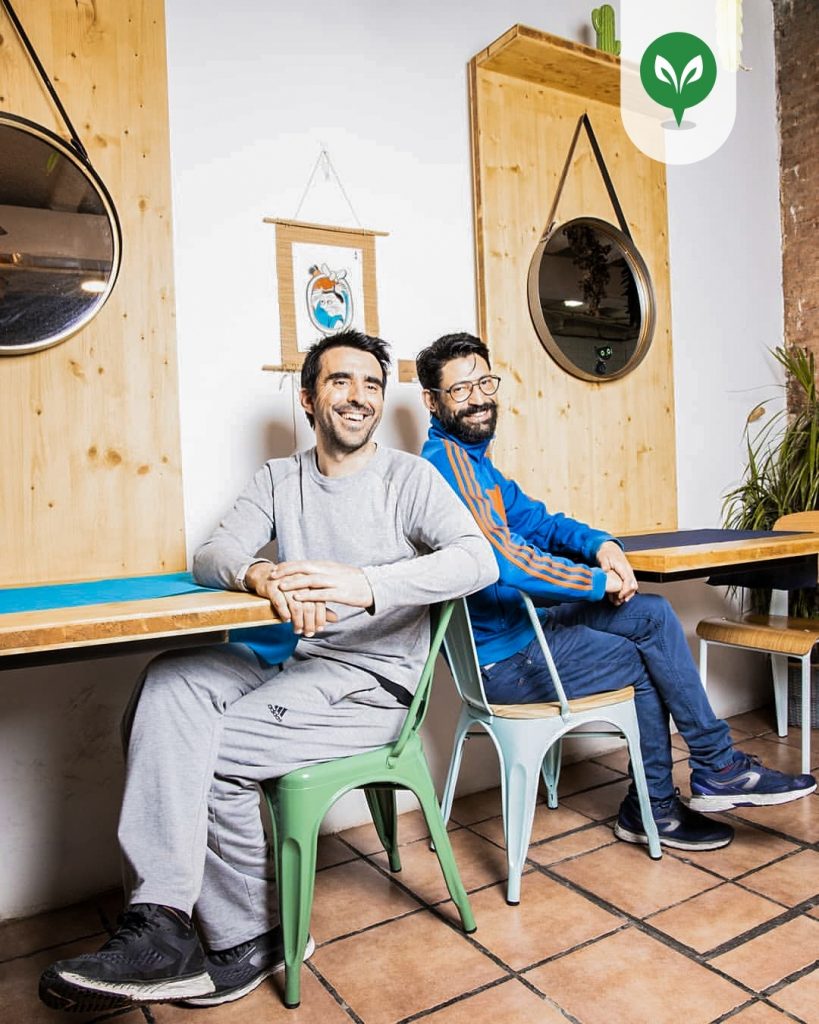 TeamCow: What was the inspiration behind CactusCat Bar?
C+G: Before embarking on the restaurant adventure, we came from very different worlds: Carlos Marquez was a film producer and Gilbert Ramírez worked for an online ticketing company. It all started because my colleagues saw the lunch boxes that I brought to work [Ramírez]. From here, we began to ponder the idea of opening the restaurant, which in May celebrated its second birthday.
TeamCow: Can you tell us about your experience of wedding veganism with Catalan cuisine? How has Barcelona responded to this creativity?
C+G: If there is one thing that distinguishes the CactusCat Bar offer, it is that the entire menu includes international dishes, but with a marked role in traditional Catalan cuisine. In fact, Ramírez's mother and grandmother were already vegetarians and some of the restaurant's recipes have their stamp. A good example is lasagna…but there is much more to choose from: fideuà (traditional catalan dish), quinoa croquettes, seasonal vegetable salads … and we always use locally certified organic products.
TeamCow: How have you seen the vegan community change in Barcelona, if at all?
C+G: We have noticed a sharp increase in the number of vegan food businesses and vegan menus on offer. We're riding that wave of veganism getting into the mainstream. People are curious and finding out that vegan food is not just a boring salad. We want to show that vegan food can be exciting and tasty.
TeamCow: How has the #1 title on HappyCow changed things for CactusCat?
C+G: Since the news we have had a lot more interest in our food offer, resulting in [us] leveraging our efforts like never before. Success has allowed us to dream a little bigger, setting the bar a little higher. We have reached out to collaborate with organizations such as 'Restaurants Against Hunger', the Eix Comercial del Raval Association, and animal sanctuaries such as internationally renowned Sanctuary Gaia. When an ambassador from 'HappyCow' told us that we were already first, we thought he was talking about Barcelona, not the world! [Márquez].
TeamCow: What message would you send to your vegan community in Barcelona?
C+G: To the vegan community of Barcelona we want to say thank you. Gratitude for coming to our restaurant with your vegan, and non vegan friends and family members. Thank you for spreading the word and supporting vegan local shops and restaurants. Also an immense amount of gratitude and love goes out to our non-vegan supporters, for giving us a go, facing your fears and eating at our restaurant week after week. You all rock in our vegan world!
TeamCow: What message would you share with the rest of the HappyCowmunity?
C+G: We're in a non-vegan world, but things are changing rapidly – and if you're trying to go vegan, you're a pioneer. If you are a new vegan please reach out to other vegans using online platforms and applications such as HappyCow – vegans are always willing to share information and support each other getting around social stigma, meal-planning and sharing local tips. We also want to thank the HappyCow team for creating such an amazing app that can unite and celebrate vegan cuisine across the globe!
Want to tell the HappyCow community about the story behind your business?
Our inboxes are always open 🙂
Comment via Facebook