We were back in Lisbon in February of this year and what a wonderful place to go for a holiday. Beautiful surroundings, ever so kind people and lots and lots of great vegan food!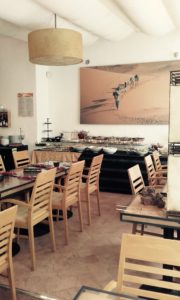 We had a new address on our list (from HappyCow of course!) and we had lunch on Saturday afternoon at Espaço da Rosa. Very nice ambiance and a truly wonderful buffet. Espaço da Rosa is a vegetarian restaurant (lunch & diner) but they have many vegan options and are happy to tell what they are.
Everything was so fresh and well seasoned. New dishes hot from the kitchen were added to the buffet all the time.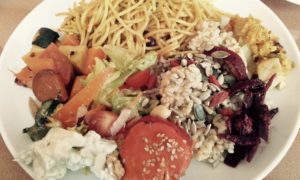 The buffet is really a feast for the eyes (and your taste buds!).
I met the chef, Fernanda, who is a very lovely lady and obviously a great cook – or I should say chef!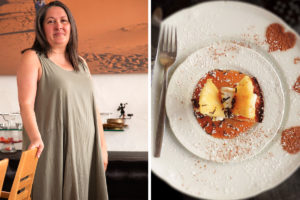 So whenever you are in Lisbon, take a cab and go have lunch or dinner (or both) at  Espaço da Rosa. You will enjoy it!
About the author: Mariëlle van de Kerkhof — happy urban gardner who loves to travel and eat great vegan food! www.mariellevandekerkhof.com
Comment via Facebook