When I heard about a raw vegan cruise in Croatia, it almost sounded too good to be true! I looked further into it, and discovered that it was on a private yacht, NOT a cruise ship, and it included daily yoga classes as well as lectures about raw lifestyle.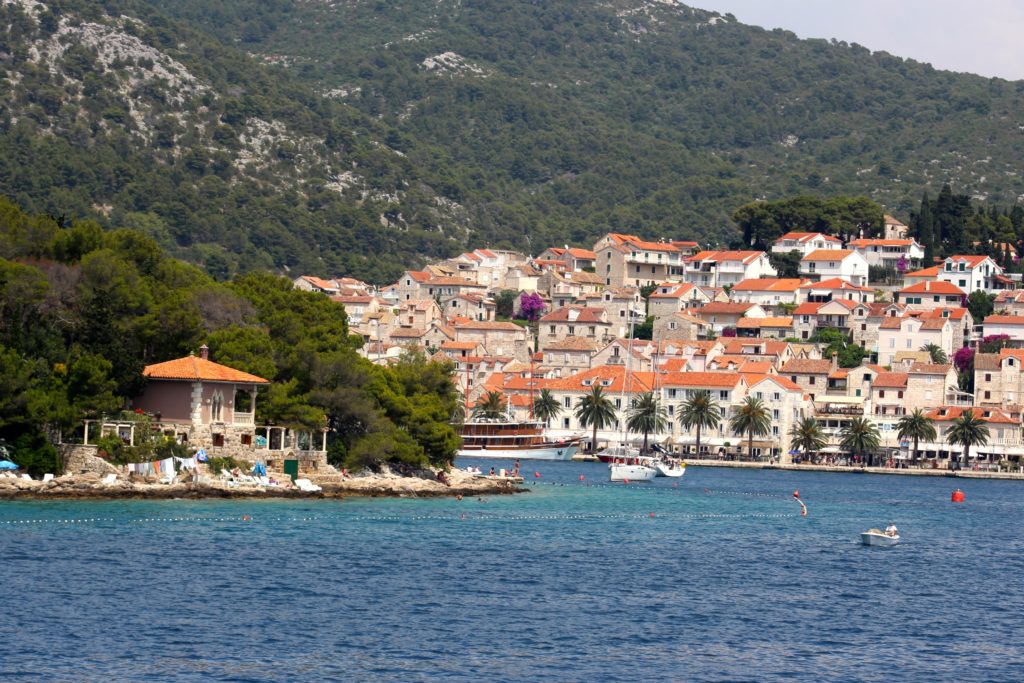 I immediately called my sister, as we both love to be on the water (we were raised sailing with our parents), to swim, to do yoga and to eat tasty yet healthy food. It looked like the perfect vacation, it was pretty affordable and so we decided to book it!
From the very beginning, the communication with Jesse, the organizer, was excellent. He suggested that we arrive the night before the start of the cruise and sent us detailed info about Croatia, the cruise, what to bring on board, recommended hotels and vegan restaurants, plus a questionnaire about food allergies and preferred activities. Jesse and his team were always available to answer any questions before the trip.
My sister and I were really excited when we met at Split airport (she lives in Brussels and I live in the USA), and a taxi took us for a short drive to our downtown hotel. Split is a buzzing and breathtakingly beautiful city, home of some of the world's most impressive Roman monuments. We found Kokolo, a fantastic outdoor smoothie and juice bar, and we started our vacation sipping on fresh green juices! Later, thanks to a suggestion found on HappyCow, we enjoyed a great dinner at Matoni.
When we arrived on the yacht the next morning, Jesse and his team warmly welcomed us. After everybody checked into their cabins, he asked us to briefly introduce ourselves as we left for our whole week adventure.
Here is was we experienced:
THE YACHT
Built just a few years ago, the 150 feet long yacht (48 meters) is in excellent condition. It has 20 cabins and 7 permanent crew members. The relatively small size of the vessel allows a truly intimate and personalized experience; with only 30 passengers aboard, it was easy to interact and make friends.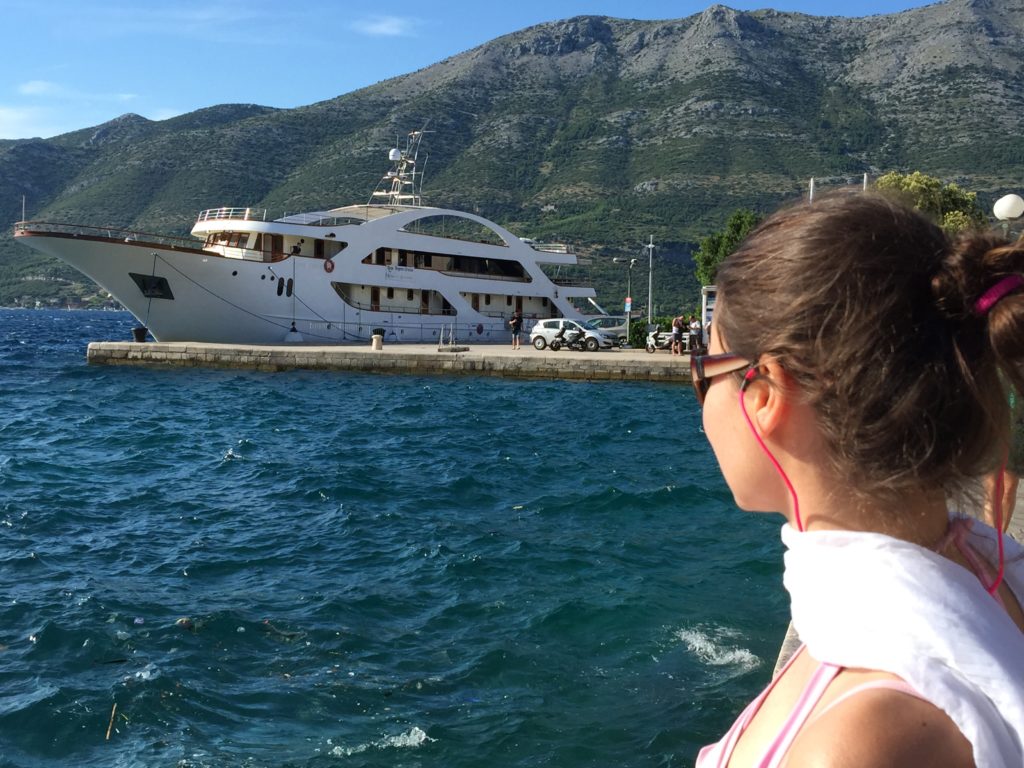 The yacht has several decks, including a shaded lounge area with tables and settees as well as a large sundeck with comfortable long chairs.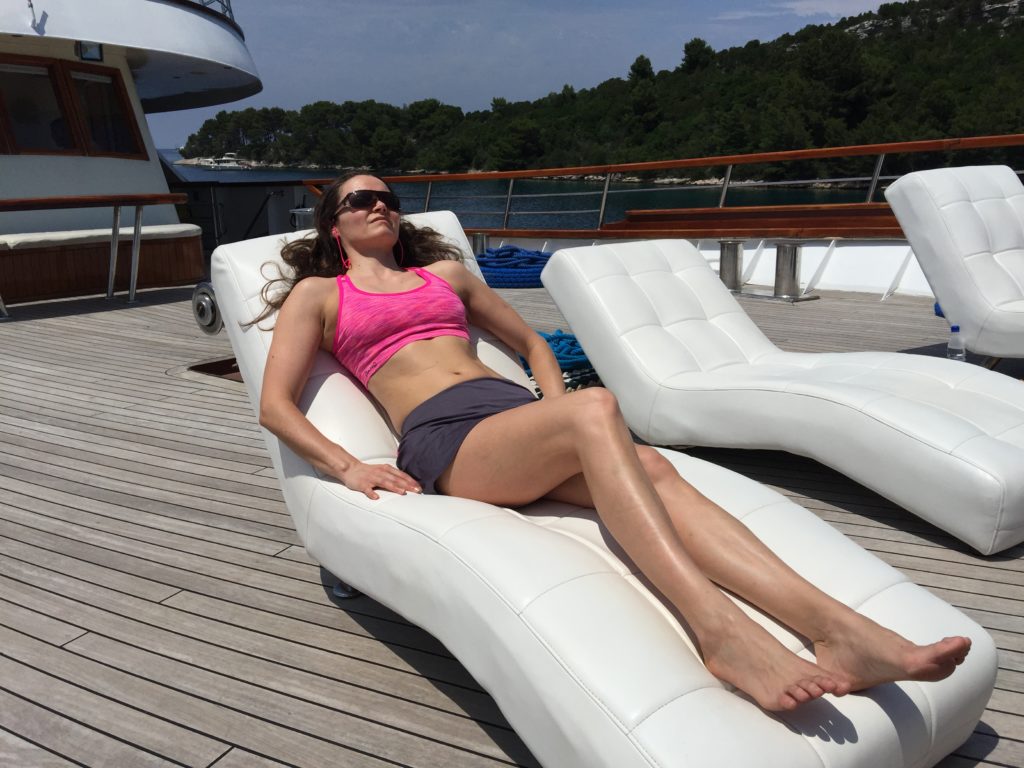 There is plenty of space to find a quiet spot to relax.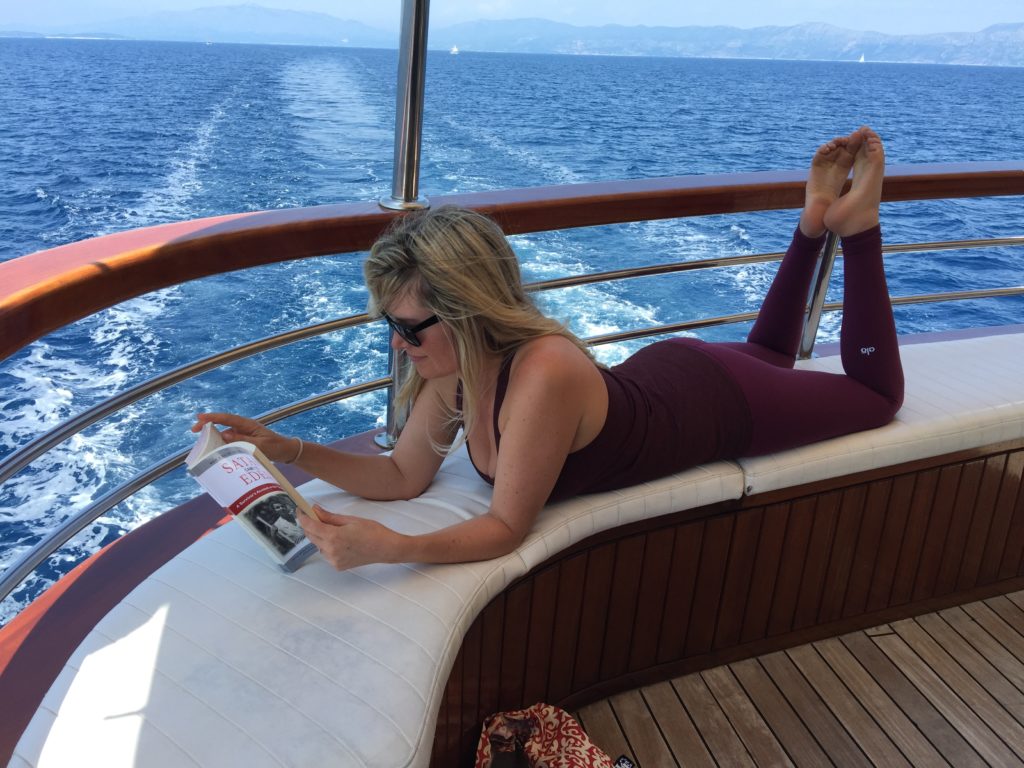 Meals can be taken inside the dinning room (on tables seating 8 or so people) or al fresco, on the covered aft deck. Several small tables are available for those who are looking for a more private dining experience. At the rear of the ship is a large swimming platform making it really easy to get in and out of the water.
THE CABIN
Our cabin on the main deck was absolutely spotless and spacious. It had an excellent layout, with a very comfortable bed (can be converted into a double or twins), a decent size ensuite full bathroom (plenty of hot water!), a small desk and a closet.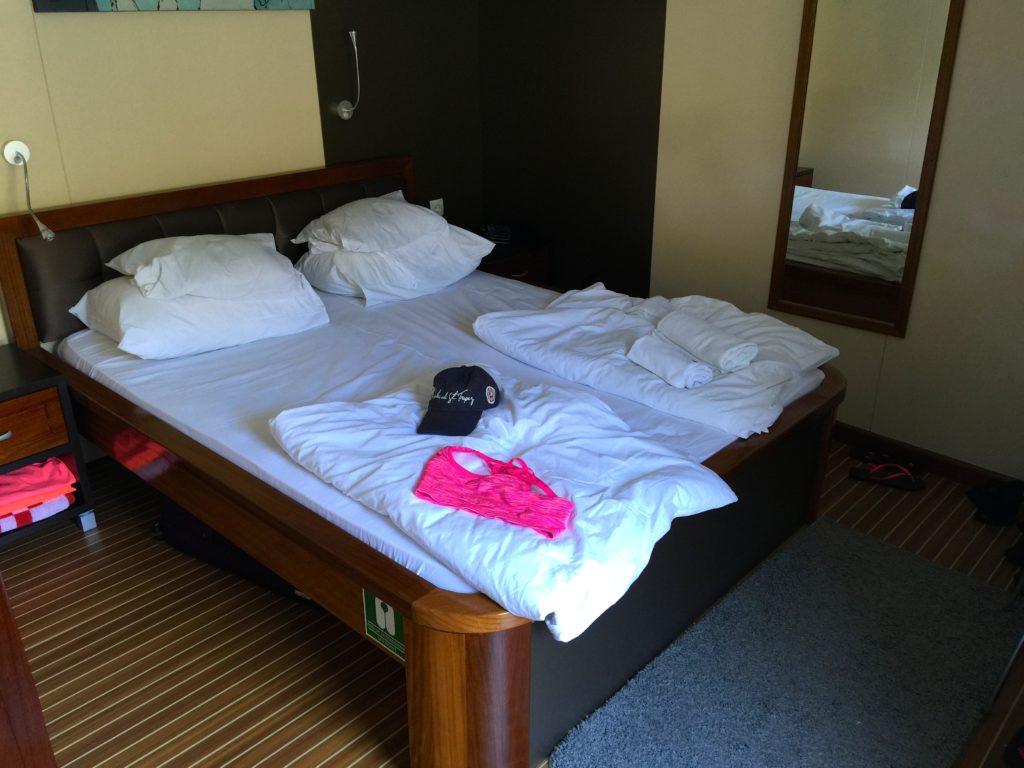 We appreciated the space under the bed to fit our suitcases. Each room on board has AC, a full bath with shower and a safe. Housekeeping comes round every morning.
THE FOOD
Most of the produce we enjoyed on board was local and organic. All the meals were fully raw. We typically had fresh juices (green, carrot, beet, watermelon etc.…) and smoothie bowls in the morning.
Large baskets of ripe fruits always adorned the tables for healthy snacking.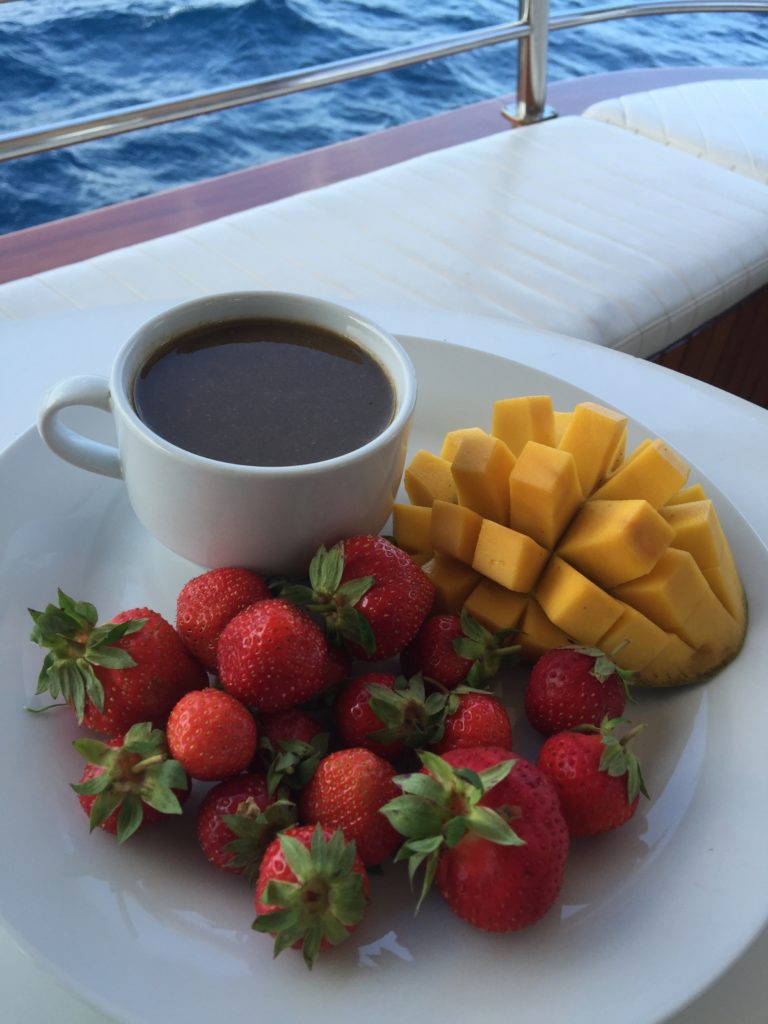 While lunches were kept simple, mostly fruit-based and large salads, dinners were much more elaborate, featuring a different culinary theme each night. We enjoyed sushi, burritos, pizzas, Indian food, pad thai, spaghetti, cashew cheese, coconut macaroons, strawberry cheesecake, apple pie or 'nice' creams, masterfully prepared by raw chef Chris Kendall (www.therawadvantage.com). It was absolutely delicious, vibrant and filling.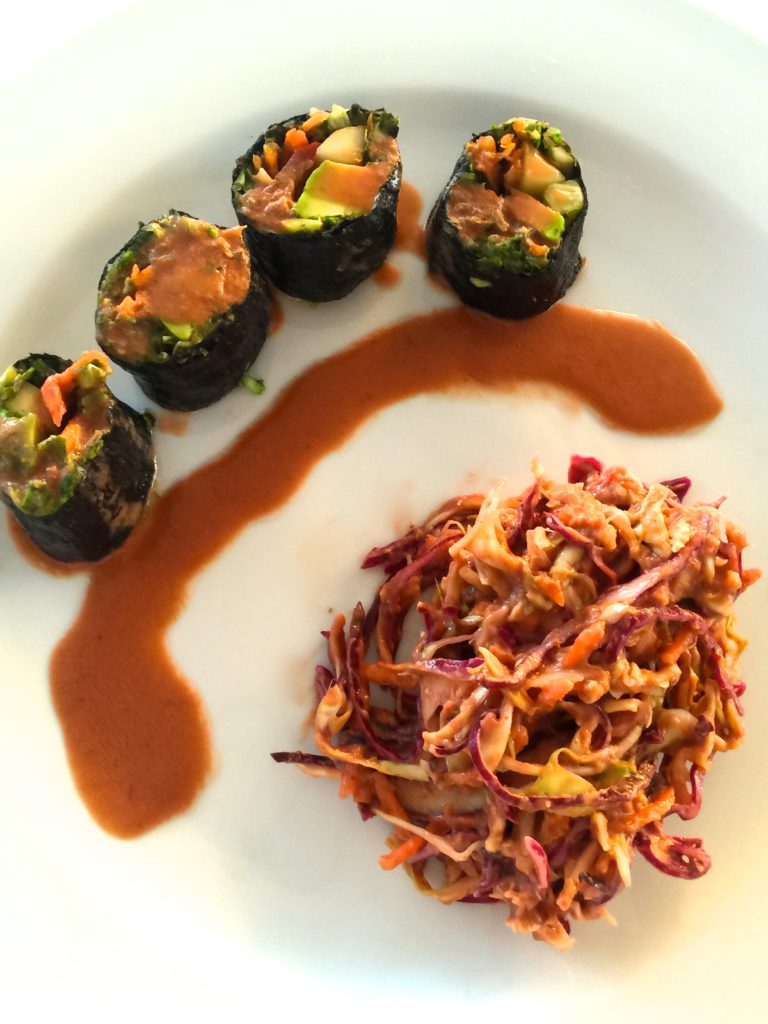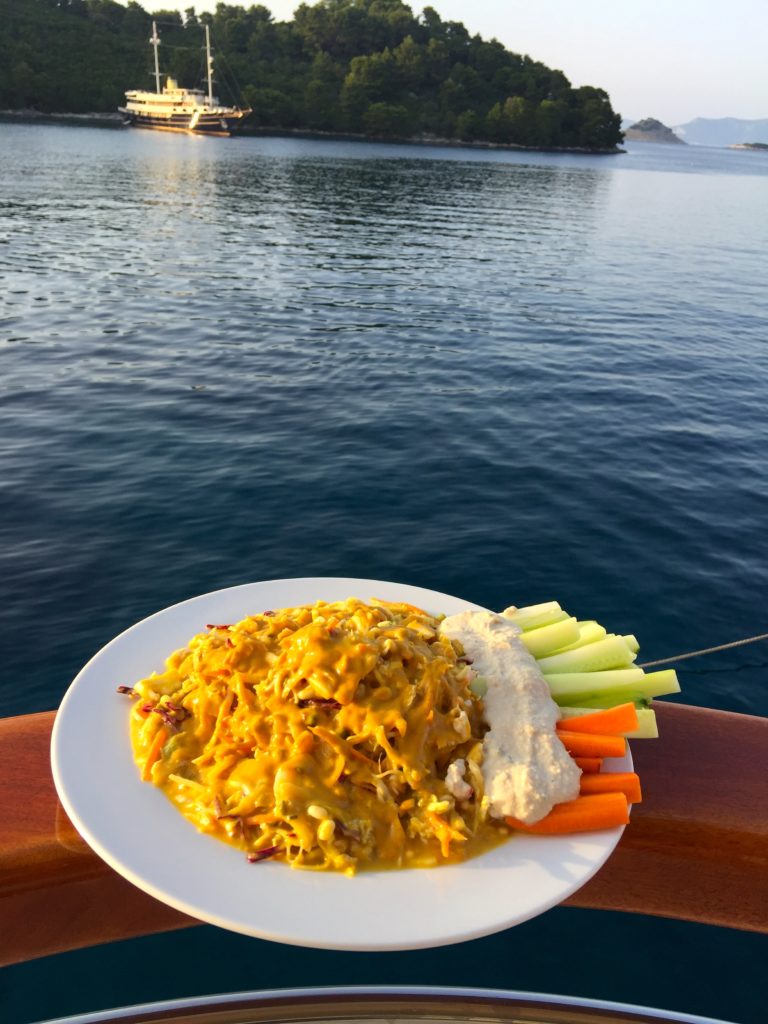 My sister and I are vegan but not fully raw (although we eat a lot of raw food everyday). So we were really curious to see how we would feel only eating raw food for a week. It was fantastic! We were never hungry, didn't have any digestive issue and had incredible energy! Raw cuisine relying on heavy nut content can be very heavy and fatty. But this was not the case as the accent was more on fruits and veggies.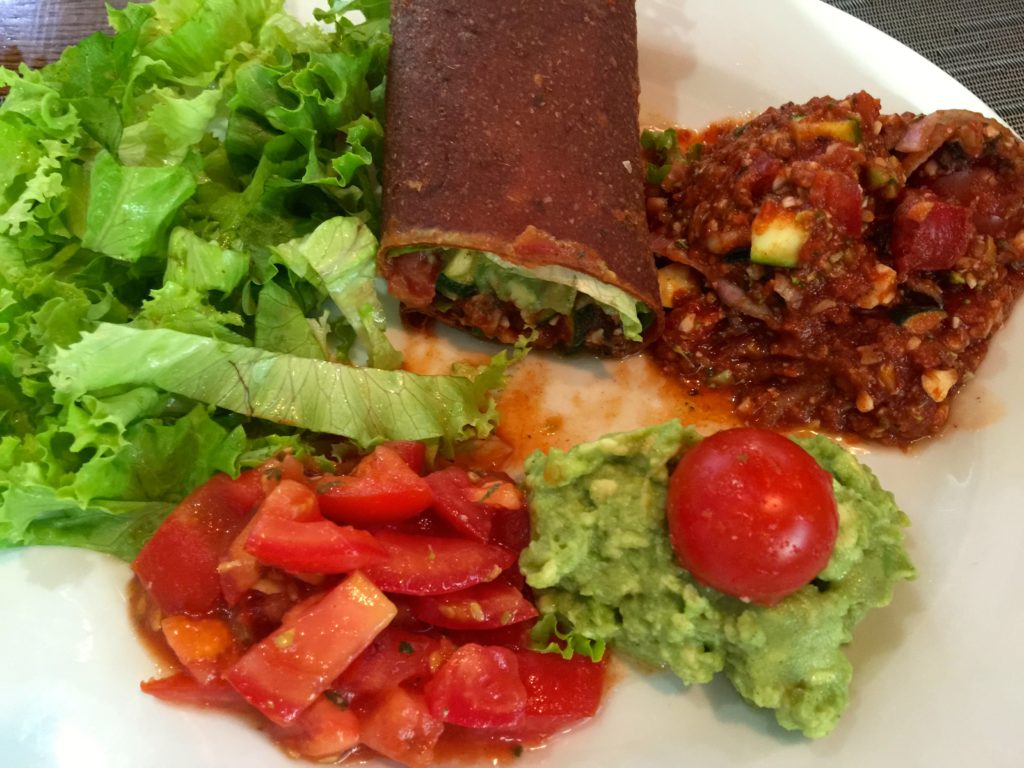 SCENERY AND ACTIVITIES
It is impossible not to fall in love with Croatia! Expect to discover a rare combination of fascinating history, phenomenal architecture, unspoiled natural beauty and crystalline sea. We started the morning with a yoga class on the sundeck while the yacht was leaving the harbor.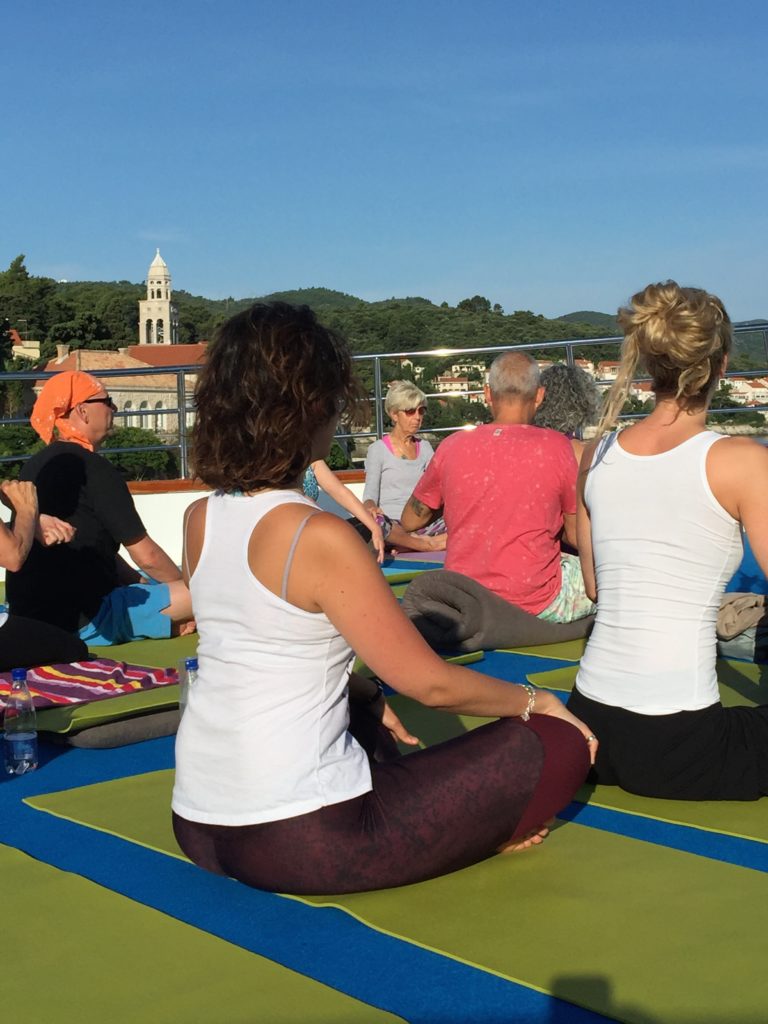 We usually had breakfast en route to the next destination. Jesse and his team (including a doctor specializing in nutrition) gave us several captivating lectures relative to raw food diet and there was also a massage therapist on board.

The itinerary covered all the island hopping, medieval cities and secluded bays we could wish for. Excursions with a local English-speaking guide were planned at every stop.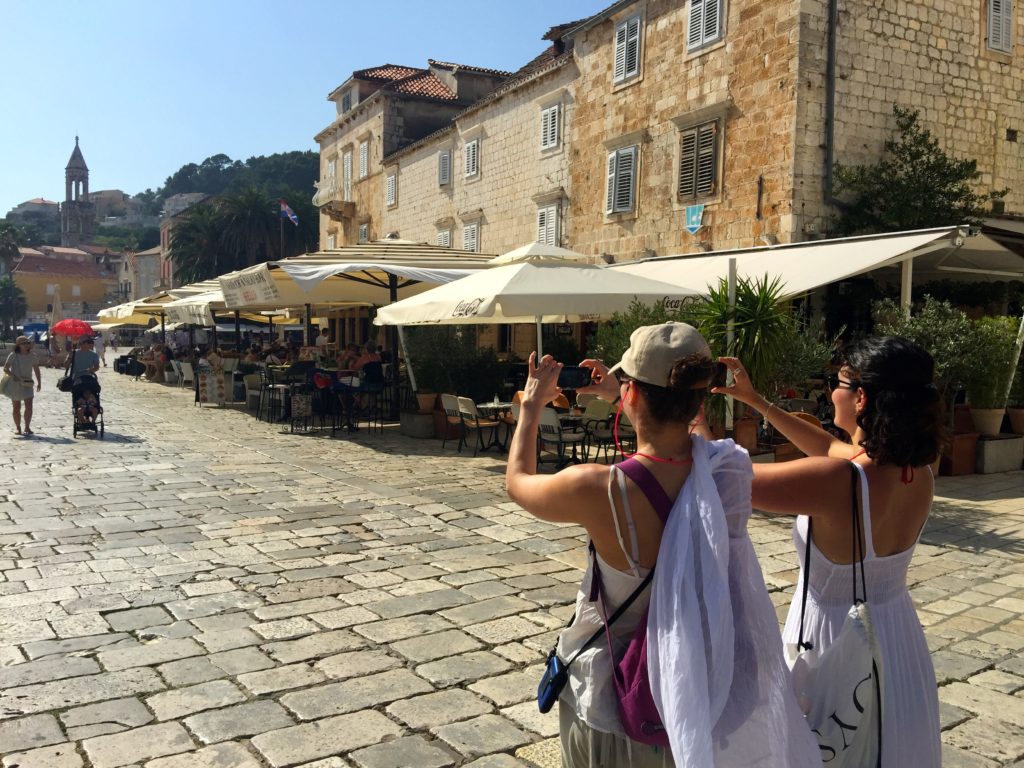 But we really enjoyed having plenty of free time to swim, relax on the yacht or discover the destinations on our own.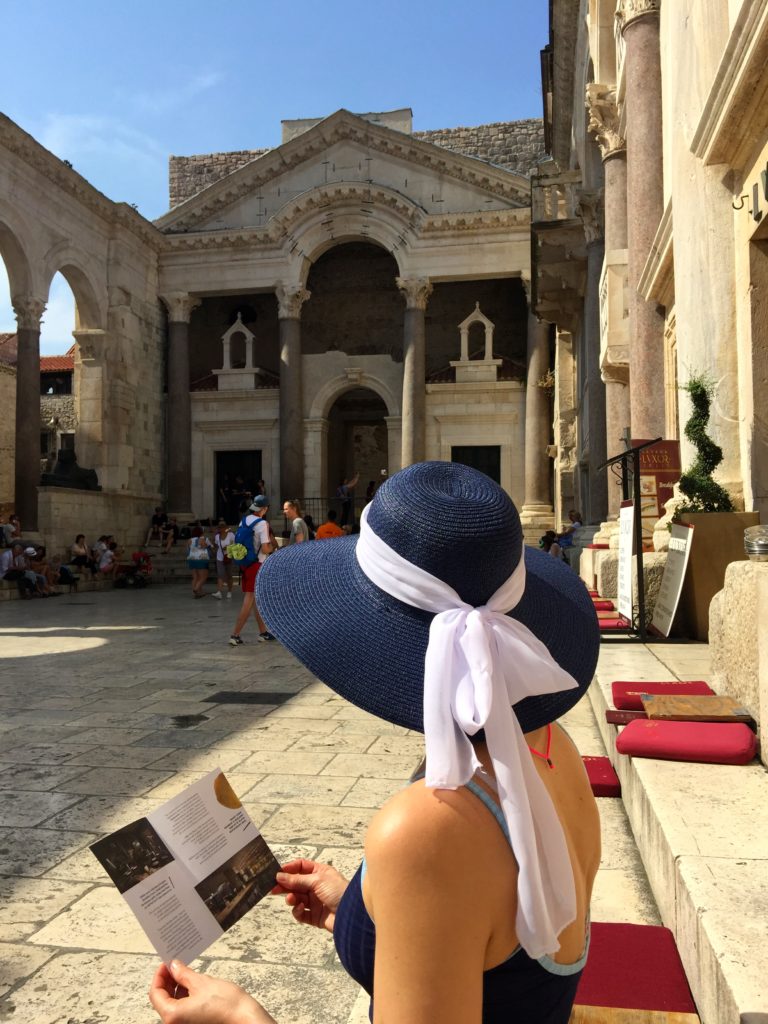 It was also very nice to spend every night at a dock, so we could fully embrace the local atmosphere of summer nights.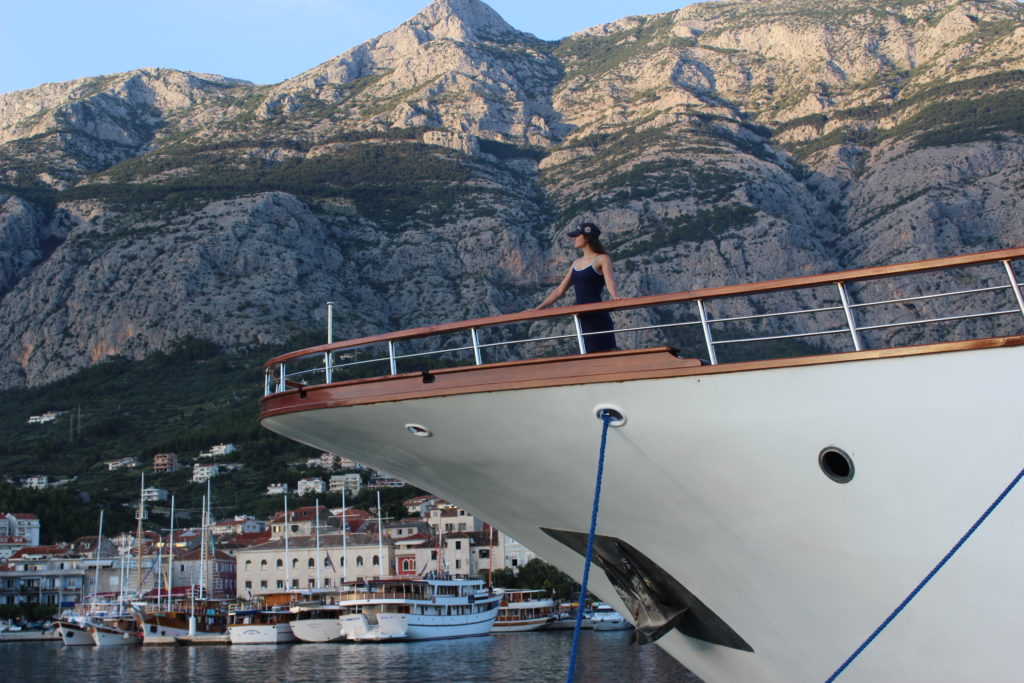 WHO IS IT FOR?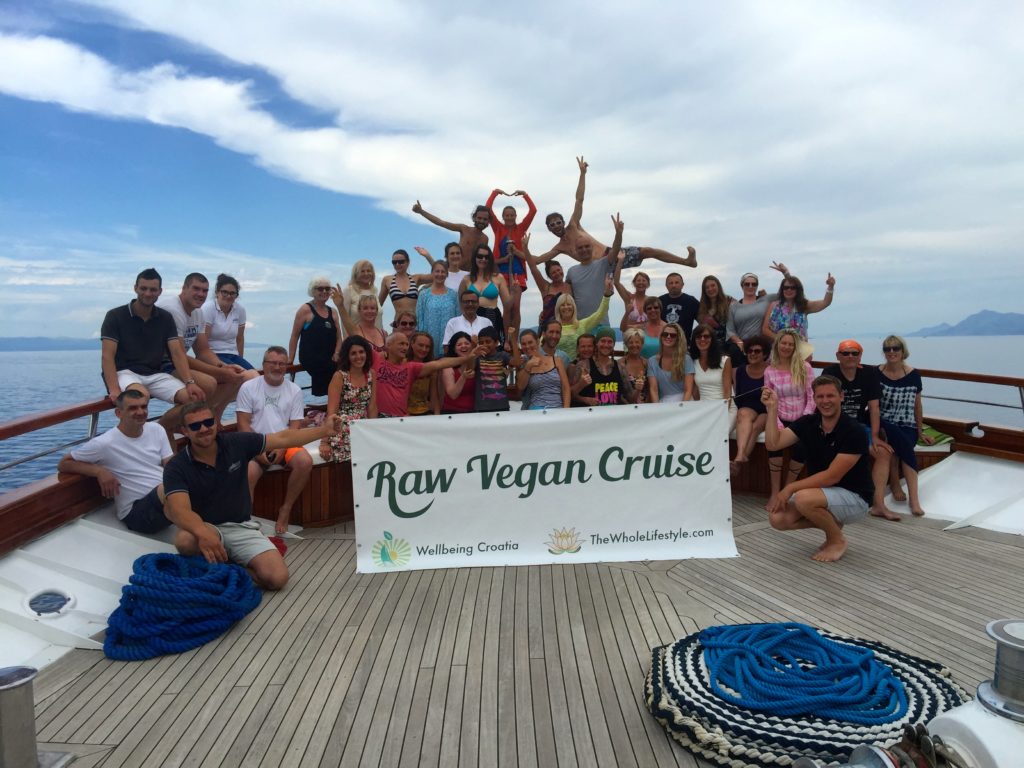 We were a very diverse group on last year's first raw vegan cruise: couples, solo male and female travelers, family members or group of friends; age ranging from 10 years old to well into their seventies. Some of us were Europeans, Americans, Indians and even Australian: we counted over 10 different nationalities!
Most of us were not raw foodists, some were vegans but the majority of the guests were omnivores, with a very open mind.
This cruise is really for anyone: whether you want to discover Croatia and its islands on a beautiful yet affordable yacht while eating healthy food, or if you are looking to shift to a more conscious way of living and meet like-minded people.
My sister and I absolutely loved every single second of the trip! This was without a doubt one of my travels highlight of the year. In fact we enjoyed it so much that we immediately signed up for the next cruise! Will you be on board as well?
For more info visit: www.thewholelifestyle.com
Disclaimer: My sister and I paid full price for last year's cruise and the upcoming one. I don't have any link with the organizers and the opinions are my own.
About the author: I am an ethical vegan, animal lover, rescue mum, former yacht chef and a travel guides writer, married to the most wonderful vegan man! I love being outdoors, water sports and most of all trying new vegan dishes! My Facebook page is Vegan Foodie (www.facebook.com/zestigreen)
Comment via Facebook