Looking to add more protein in your diet or move away from buying traditional protein powders made with whey or soy? Pure Vegan Pea Protein is a delicious and nutritious way to add Non-GMO protein to your diet. Pure Vegan Pea Protein is a blend of vegan protein that is derived from golden pea kernels. All batches are tested by Pure Vegan's quality assurance, quality control and research and development team who guarantee that it is supreme in quality, potency, and purity.
With a crowded market full of protein powders that are made from low quality ingredients and common allergens like soy and lactose, Pure Vegan Pea Protein is a safe and smart choice for vegans, people with food allergies, athletes and anyone who is looking to increase the daily amount of protein in their diet. Pure Vegan Pea Protein is easily digested as it contains no lactose or gluten. Since Pure Vegan Pea Protein is 100% gluten free and allergen free, individuals with allergies or sensitivities to certain foods will find this protein to be an incredible and helpful addition to their diet.
What exactly is protein and what does it do for us? Protein is an essential nutrient that is crucial to your health. Next to water, protein is the most abundant substance in the human body. Protein is made of amino acids that are used by our bodies as a building block in the growth, maintenance and repair of body tissue. Pure Vegan Pure Protein has an impressive amino acid profile that is rich in arginine, lysine and branched chain amino acids. These amino acids help to reduce body fat, increase muscle mass, and help compensate for the common deficiencies in a vegan or vegetarian diet.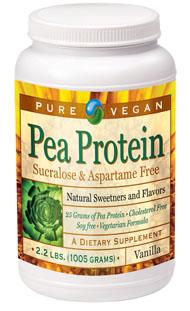 Many people who have tried Pure Vegan Pea Protein rave about the pleasant taste and add the protein powder to smoothies, cereal, vegan yogurt or pudding. Even if you don't love the taste of peas, Pure Vegan Pea Protein has a light and delicious taste and texture that can be added easily and blended with only a spoon. Whether it's mixed in a smoothie made with almond milk, coconut milk or water, customers love the end result. Great ways to add more flavor and nutrients to a smoothie are filling it with healthy add-in's such as: bananas, apples, pineapples, mangoes and stevia.
Not only is Pure Vegan Pea Protein vegan, lactose free, cholesterol free, and gluten free but it is also made without any artificial sweeteners. Artificial sweeteners are commonly found in many protein powders and are a health hazard known to cause weight gain, headaches, nausea, cramps and fatigue with use over time.
Pure Vegan Pea Protein is an exciting healthy addition to the protein powder market, especially for those following a vegan diet as it can be difficult to find protein powder that is dairy free. Pure Vegan Pea Protein is a protein you can feel confident about buying because of it's nutritional value, flexible usage, and high quality ingredients.
by Melissa Sanborn of Nutritional Brands, PureVegan
Comment via Facebook