.
Freekeh (or frikeh or farik) is a cereal food made from green wheat that goes through a roasting process in its production. It is an Arab dish that is especially popular in Levantine, Arabian Peninsula, Palestinian and Egyptian cuisine, but also in North African and other neighboring cuisines.
.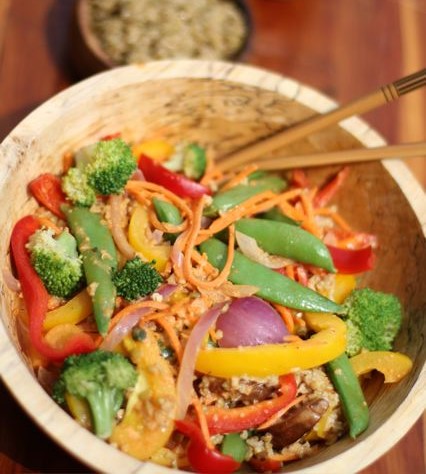 Ingredients
1 8-ounce (1 cup) package cracked freekeh
2 1/2 cups water or vegetable broth
2-3 tablespoons toasted sesame seed oil
1 medium onion or spring onions diced
1-2 sweet peppers, julienne sliced
2-3 carrots, julienne sliced
1 1/2 cups broccoli, chopped
1 1/2 cups fresh sugar snap peas, whole
1 4-ounce can red curry paste
1 12-ounce can low-fat coconut milk
2-3 limes, juiced
1 tablespoons reduced sodium soy sauce
4-6 cloves garlic, diced
Optional toppings: chopped peanuts or cashews and cilantro
Method
Freekeh – Pour 2 1/2 cups of water and the freekeh in a saucepan and bring to a boil, cooking for 1 minute. Reduce heat to low. Cover and simmer for about 25 minutes until the freekeh is tender.
Vegetables – While freekeh is cooking, in a separate skillet, heat up oil over medium to high heat. Careful not to burn the oil. Toss in all the vegetables and garlic and stir rapidly. Reduce temperature to medium and cook until the vegetables are slightly tender.
Sauce – In a separate small saucepan, pour in coconut milk and red curry paste and simmer on medium heat until the ingredients are blended together. In the skillet with the vegetables, add in all the spices and simmer a minute longer. Pour coconut curry mixture in with the vegetables and serve immediately over freekeh as you would a rice dish. Or, blend the cooked freekeh right into the skillet.
Options: You can add any type of vegetables to this recipe, like shredded cabbage or broccoli. Toss in diced tofu or browned tempeh right at the end of cooking and serve immediately. Tempeh is a fermented grain product that's high in fiber and protein, and it will add a nice nutty texture to this dish.
Ready in 35 minutes
Serves 4
Comment via Facebook