Updated – Tuesday September 9, 2014
Kabaret at Karamel
On HappyCow –

here

.
From FatGayVegan.
London is getting a brand new 100% vegan venue that is part restaurant, part drinking establishment and part late night music hot spot.
Yep, that's right. After years of waiting, the capital has a 100% vegan bar and I couldn't be happier. Kabaret is set to explode onto the scene from September 1st, 2014 and London better get ready for a globally-inspired food menu, a tantalising range of craft beers, outstanding coffee, world class fine wines and even a vegan White Russian cocktail. All of this is vegan, people!
The venue is the brainchild of Frank Hutson and Louise Wallis. Frank is an award-winning musician, composer and DJ and Louise is a globally recognised DJ and just happens to be the founder of World Vegan Day.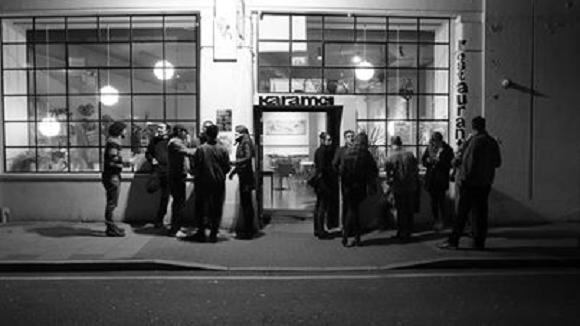 Frank Hutson & Louise Wallis, co-Directors of KABARET, the new inhabitants of Karamel at Chocolate Factory 2, are throwing 3 opening parties to celebrate on Fridays the 5th, 12th and 19th September, 2014. 
Kabaret at Karamel, Chocolate Factory 2,
4 Coburg Road, London, N22 6UJ, United Kingdom

Tickle your taste buds with our World Food, fine wines, and Craft Beer supplied by the award-winning Pitfield Brewery.
And strut your stuff to DJs from the Luminous Frenzy Sound System – spinning an eclectic, off the wall mix of house, disco, funk, soul and reggae.
Everyone's invited – Karamel regulars, as well 1st timers curious to see the venue.
As Liza & Louis famously put it:
"What good is sitting alone in your room?
Come hear the music play
Life is a Kabaret, old chum
Come to the Kabaret"
Facebook Event Page – here.
Facebook Page – here.
KABARET, the new inhabitants of Karamel at Chocolate Factory 2 – 
http://karamelrestaurant.com/
……………………………………………
Original post – from – October 19, 2010

by Louise Wallis from the national 'March for Farmed Animals' on 2nd October 2010 (World Farm Animals Day)


I'm going to keep my speech pretty short. Thanks to the organizers for allowing me to speak, and thank you all for coming today. What a great event!
We are here because we all care about farmed animals, and because we don't want them to suffer.
The single most effective thing we can do to stop the suffering of farm animals is to go vegan. Being vegetarian is not enough, because you are still relying on farm animals for food. Farmed animals will only be free when we stop using them for food – of any kind.
Sadly, veganism still suffers from a poor image. Vegans are seen as self-sacrificing, hair-shirt-wearing idealists who lead deprived, difficult and miserable lives.
People say things like: "Oh I don't know how you do it, I could never be vegan". This drives me nuts, and makes me laugh – as it could not be further from the truth. I have been vegan for 28 years and I can honestly say it's the best thing I ever did. I went vegan out of concern for animals, but I quickly realized that being vegan was good for me too!
I feel happier, healthier, and I enjoy my food far more than I did before going vegan. We need to turn on its head the idea that vegans are deprived or missing out. On the contrary, it enhances your life, and makes it better, not worse!
It certainly makes life less complicated. As a vegetarian you could drive yourself mad trying to ensure you only ate free range eggs, or vegetarian cheese – as few food manufacturers or restaurants bother using these.
For this reason, vegetarians relax their standards and eat ordinary cheese – the stuff you find in supermarkets, restaurants, takeaways – despite the fact that dead calves are used to make it. The rennet used to make cheese is obtained from their stomachs. Which makes you sick to the stomach when you think about it.
Go vegan I say, it's A LOT simpler!
I think it's high time we reclaimed the word vegan too. I've noticed that many groups promote vegetarianism rather than veganism, because they worry that it will alienate supporters. I disagree. The more we use the word vegan, the more appealing it will become.
All we are doing when we avoid using the word vegan is internalizing the negative messages and stereotyping that our critics invent to discredit us. We should never be ashamed of who we are, and what we stand for: non-violence.
Vegetarianism is a red herring. People go vegetarian in the belief that milk and eggs are 'freely given' or "humanely produced', but we know that this is a lie.
We all want people to go vegan, it's a damn sight easier being vegan than it is trying to be an ethical vegetarian, so let's not be afraid to say: "look, do yourself a favor and don't bother with vegetarianism – go vegan".
That's what farmed animals would say if they could.
Thank you.
by Louise Wallis of http://www.louisewallis.net/ & https://www.facebook.com/DJLuminous
Comment via Facebook