Better than any 'TV'.
In just 80 minutes you will know more about preventing heart disease & other chronic medial conditions than most medical doctors do.
The key message –
"I want patients to eat leafy greens six times a day – and NO OIL."
Dr. Caldwell B. Esselstyn, Jr.
Dr. Esselstyn's leading choices are

arugula, chard, kale, spinach, beets, beet greens and bok choy.
Dr. Esselstyn has followed a vegan diet himself for more than 26 years.
1)

The dietary changes that helped my patients over the past 20 years can help you, too. They can make you immune to heart attacks. Don't eat meat, poultry, fish, or dairy products. Eat a wonderful variety of veggies, legumes, whole grains, and fruits.
2)

Coronary artery disease is preventable. Even after it is underway, its progress can be stopped, its insidious effects reversed. The key lies in nutrition—specifically, in abandoning the toxic American diet and maintaining cholesterol levels well below those historically recommended.
3)

Here's a benefit of a plant-based diet that you might not have expected: For the rest of your life, you will never again have to count calories or worry about your weight.
4) There is nothing radical about a plant-based diet. It's about as mainstream as you can get. For billions of people, it is standard fare, and heart disease and many other chronic ailments are almost unknown.
5) All the cardiovascular interventional procedures carry considerable risk of morbidity, including new heart attacks, strokes, infections, and, for some, an inevitable loss of cognition. By contrast, the benefits of a plant-based diet actually grow with time. The longer you follow it, the healthier you will be.
 …
…
……back to 1874 – ……just 140 years ago
Russell Thacher Trall recommended almost the same diet as Dr. Esselstyn to his patients who were – heart blocked, cancerous & diabetic etc.
Trall was an American health reformer and physician, born in Vernon, Tolland County, Connecticut, 5 August, 1812; died in Florence, New Jersey, 23 September, 1877.
He was a co-founder of the first American Vegetarian Society in 1850.
In 1874 he published :
THE
HYGEIAN HOME COOK-BOOK;
OR, 

HEALTHFUL AND
PALATABLE FOOD WITHOUT CONDIMENTS.
This was America's very first 'vegan' cookbook – containing recipes –
'……without the employment of milk, sugar, salt, yeast, acids, alkalies, grease, or condiments of any kind.'
Trall stated that 'for a dozen years' – they had left these out of the diet at his health centre.
grease = both liquid & solid vegetable oils / fats.
See these pages….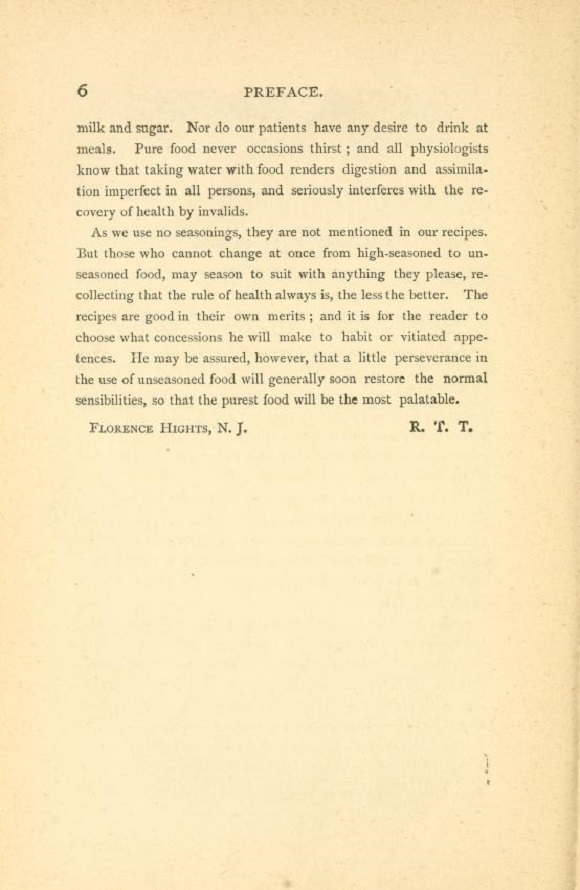 The complete book as a low-res .pdf file to download.
Trall was in regular contact with Elizabeth & William Horsell & the other the London UK vegans of the 1850s & 1860s.
They exchanged material.
Trall edited the US editions of some of their books.
They sold & distributed each other's books & pamphlets.
The Ernest Bell Library has a very nice original copy of the 1888 second edition of 'The Hygeian Home Cook-book'  – the image of the front cover is posted below.
We also have a wonderful & much used shelf of original books, magazines & advertizing material by Trall.
THE
HYGEIAN HOME COOK-BOOK
OR, HEALTHFUL AND
PALATABLE FOOD WITHOUT CONDIMENTS.
R. T. TRALL, M. D.
NEW AND REVISED EDITION
1884
Russell Thacher Trall's – autographed 1860s Carte de Visite – the original is in The Ernest Bell Library.
The Answers!
Arugula
Commonly known as salad rocket, roquette, rucola, rugula, colewort, or, in the United States, arugula – http://en.wikipedia.org/wiki/Eruca_sativa
Chard
Also known by its many common names such as Swiss chard,silverbeet, perpetual spinach, spinach beet, crab beet, bright lights, seakale beet, and mangold. In South Africa, it is simply called spinach. – http://en.wikipedia.org/wiki/Chard
Kale
Spinach
Beets & Beet Greens
Bok choy
…………………………………………………………………………………
Our Projects
The Ernest Bell Library was conceived in 1934. It is still strong & active eighty years later –  its primary objectives are to: –
Collect all of Ernest Bell's book & non-book works and make them easily accessible to everyone.

Collect the literature of vegetarianism and all the other humanitarian movements in which Ernest Bell was so deeply involved.

Assist students and scholars in their research.

Introduce all aspects of Ernest Bell's life, including his writings, campaign work, influences and his circle of friends.

Undertake our own research into missing aspects of Ernest Bell's life and work.
We already have more than 300 pieces of Ernest Bell's own writings.
We have a passion for sharing excellent quality vegan articles / items – making them easily available to 21st C folk.
Most early books & magazines on veganism were originally only published in the hundreds or in the low-thousands of copies.
Wars, weather, insects, careless humans, etc. have combined to make many of them very hard to find.
We are actively building a collection of examples of promotional material, campaign material, fundraising & marketing activities etc. – related to: –
veg(etari)an products.

veg(etari)an books & other publications.

veg(etari)an organizations.

veg(etari)an businesses.

animal rights organisations.

animal rights publications.

humanitarian organisations.

humanitarian publications.

rambling clubs run by members of the above groups & related publications.

the work of Richard St. Barbe Baker & the 'Men of the Trees' organization & its many sub-branches.
There are currently more than 2,800 items in the Ernest Bell Library.
We will complete the cataloging of the collection as & when adequate funds are available.
It is long past time for the library to go online!
 

"I have little doubt that the proposal for the establishment of an Ernest Bell Library, 

which would specialize in humanitarian and progressive literature, and so form a sort of centre for students, will meet with a wide response." 
Henry S. Salt – writing in September 1934
………………………………………………………………………………………………………
If anyone would like more information, please send an email to: – 
humanitarianleague

(at)

outlook

(dot)

com

 
– or message me  through

 HappyCow

 – 

If you are a Tweeter, please consider sending this post out to your friends.
Thank you! 
Comment via Facebook