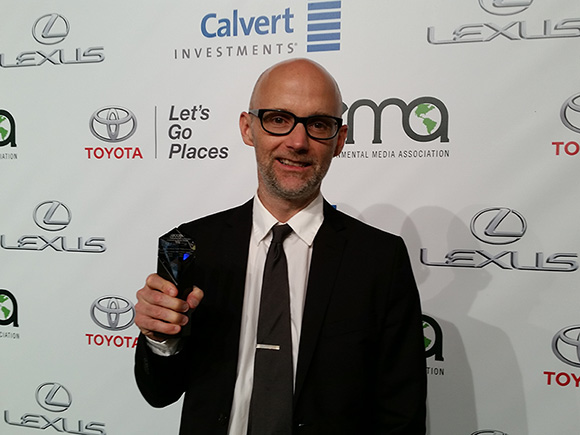 On October 22, 2016, environmentalists and celebrities were brought together to help raise awareness for the causes they support at the 26th annual Environmental Media Association (EMA) Awards.
Long-time vegan singer/songwriter/environmentalist/activist Moby has been highly vocal regarding animal rights within the agriculture community. The EMAs honored him with the 'Missions in Music' award. During his acceptance speech, he discussed how destructive the livestock industry is to our health and the environment and reiterated his stance that the government needs to immediately stop subsidizing factory farms and agribusiness. With his band, he jammed to some selections from his new "These Systems Are Failing" album.
EMA is dedicated to harnessing the power of celebrity and the media to promote and inspire solutions for the environment through their impact in media and pop culture, and believes through positive role modeling the entertainment community can inspire consumers to take action. With this mission in mind, the organization bestowed its top honors upon Shailene Woodley (Female EMA Futures Award), Jaden Smith (Male EMA Futures Award), long-time vegan Moby (EMA Missions in Music Award), Robyn O'Brien (EMA Green Parent Award), and United Nations PRI (EMA Corporate Responsibility Award).
Below are two interviews that HappyCow's Ken Spector conducted at the event. The first is with Scandal star Darby Stanchfield, and the other is with Blackish star Marcus Schribner. Learn about what main stream celebrities are saying about veganism and the vegan diet.
For more information see: green4ema.org
Watch our videos here:
Darby Stanchfield (Scandal)
Marcus Schribner (Blackish)
Comment via Facebook