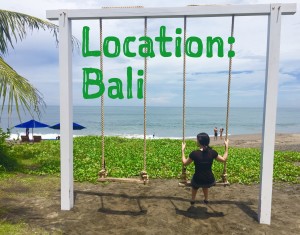 When people come to Bali they are looking to get away from their busy lives and enjoy some time to relax and explore. I love the unique Balinese culture found on the island. Each day I eat the most amazing traditional food that often is naturally vegan, catch some waves surfing on the most beautiful beaches, and stretch my body with yoga classes. The experience you receive here is more relaxed than anything you are used to back home. The kindness of the Balinese will make you feel welcome; they always have a smile on their faces! You may never want to leave!
Yes, you'll find many expats and tourists here. Some say that Bali is not worth coming to anymore because of the influence of the west, but I would have to strongly disagree! Having western owned businesses gives you some of the comforts you would have back home like good service, excellent coffee, and more vegan options for food. But there are definitely areas that are overrun by tourists. I highly recommend coming to Canggu, which has all the modern comforts without the business of drunken kids on holiday.
Let me run you through a typical day for me here in Bali! Right now I'm staying at the surf and yoga retreat called Pelan Pelan, which has a wonderful package at an amazing price. This was helpful for me so I didn't have to sort everything out on my own since this was my first time in Canggu.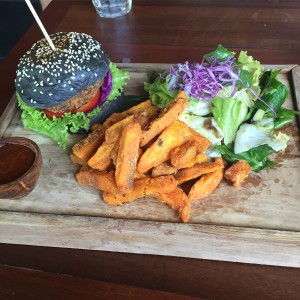 6:30 am
I wake up pretty early each day because my body is on the natural rhythm of the sun. A home cooked breakfast is included and vegan diets are easily cared for here. I've been having either a huge fruit salad with granola or oatmeal topped with fresh fruit. The fruit in Bali is INCREDIBLE. We get fresh juice and coffee and then head out to the beach to go surfing. Canggu is one of the best surf locations in Bali and the local teachers know the ocean like the back of their hand. There are multiple surf spots with waves ideal for both beginners and advanced surfers. I like Pelan Pelan because you are paired with a teacher that helps with your individual needs. Usually only 2 students are paired with each teacher so you get lots of personalized attention!
12pm
After being completely worn out from surfing we arrive back at Pelan Pelan for a quick shower and join other guests in the lounge for a delicious Balinese lunch. Your mouth and tastebuds will dance and sing when you try the food here. Each day is different and each meal is full of color and flavor. Just let them know you are vegan and they will prepare a special tofu and tempeh dish for you along with a veggie dish, greens, and rice.
Sometimes I go out for lunch because I have found many of the veg-friendly places are closed for dinner. My favorite vegan spot for lunch is Peloton Supershop. Grab the Be Strong smoothie and the veggie burger with sweet potato fries!
2pm
This is the hottest part of the day, which often means I'm chillin' in my air conditioned room. Sometimes I relax by the pool, read a book, or hop on a scooter to explore the surrounding area. But most times I take this opportunity to catch up on work, blog, make videos or just rest. Massages are included in the package at Pelan Pelan so I take advantage of that! Damn, those ladies are strong so be sure to let them know if you want a gentle massage.
5pm
Time for yoga class! As a yoga teacher myself I love that yoga classes are included. They are the perfect compliment to surfing. You would not believe how much work it is just to catch a few waves.
7pm
Every evening I explore the local cafes in Canggu. They are so many choices! If you look at my Google Maps you will see a sea of yellow stars from all the places I've saved on my phone. Pro Tip: When you have wifi save all the vegan and vegetarian friendly options on your phone, then you can see the stars even without internet. Vegans and vegetarians will be in heaven with fresh vegetables, tofu, tempeh and gorgeous salads found around town. My favorite local place has been BuMi Warung. You get a huge plate of food for less than $2!!
If you have any questions at all about Bali leave them in the comments or say hi on Instagram and I will resond as soon as I can!
Comment via Facebook