PRI's The World Reporter – Mary Kay Magistad chatting with Long Kuan – plus other content
– a 5 minute audio
Vegan lunch: Going meatless in Beijing
China's 'vegan' numbers are set to skyrocket in 2014 & beyond!
Taiwan already has numerous vegan businesses.
In little Hong Kong another one open every few months.
~ In 2010, former Premier of the People's Republic of China, Wen Jiabao (温家宝总理) proposed a nationwide campaign of "one day of vegetarianism every week" (每周一素), mainly as part of a broader environmental platform.  ~(1)
Credit: Mary Kay Magistad
Vegan activist and singer Long Kuan and a friend enjoy meatless "lamb" kabobs at a Beijing restaurant.
.
Excerpts from the chat between Long Kuan & Mary Kay Magistad: –
Vegan lunch: Going meatless in Beijing
Reporter – Mary Kay Magistad 
For now, just 4 or 5 percent of Chinese are thought to be vegetarian. But — that's still more than 50 million people — a whole lot more vegetarians than there are in the United States, where perhaps as many as 30 or 40 million are vegetarians to some degree or another. Long Kuan thinks China can do better.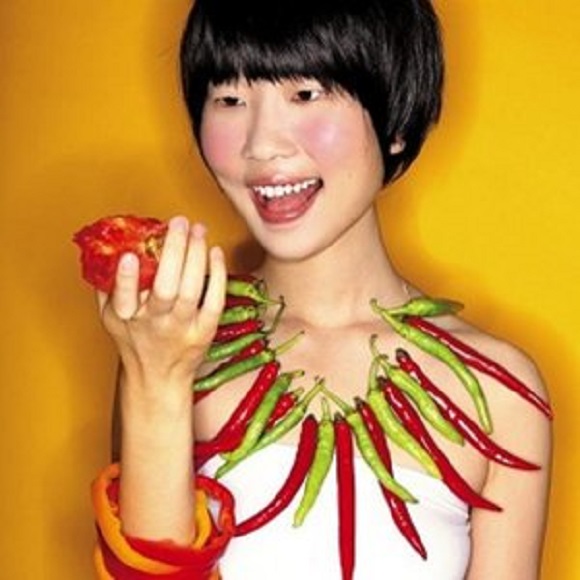 Four years ago, Long Kuan was a pop singer, pixie-faced, in her late 20s, with little pig tails — bringing to mind a Chinese Bjork. A song of hers out at the time, "LOHAS Queen," was an ode to LOHAS – "lifestyles of health and sustainability."
She decided to switch from just being vegetarian to being vegan, after reading a United Nations report that said that raising, slaughtering and processing livestock produces more greenhouse gases than cars. And these days, she says, it's a lot easier to be a vegetarian or vegan in China than it used to be.
So these days, Long Kuan says, getting even her meat-eating friends to go to a vegan restaurant with her is an easy sell.
"Because after the meal they will feel energetic for the whole day, rather than feel drowsy and heavy, like they do after eating meat," she said. "And it's so delicious, as well. The vegan restaurants now are not like 10 years ago, when it used to be tofu and greenies (leaves). But now, it's everything you can eat. When you look at a menu, you can see everything you can eat from a normal restaurant. There's fish. There's steaks. There's pizza. There's everything — but it's all vegan." (2)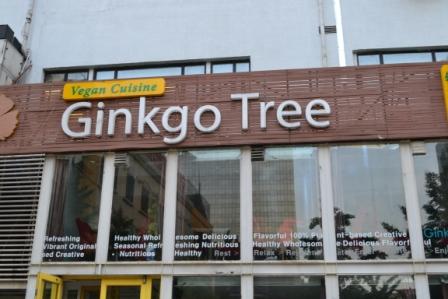 They were meeting at Gingko Tree
– the first vegan restaurant to open in Beijing (3)
Long Kuan's single promoting environmental protection, called "Queen of Lohas".
LOHAS (Lifestyle Of Health And Sustainability).
Notes
1) – Premier Wen Jiabao – "one day of vegetarianism every week"- news article in Chinese – http://www.xuefo.net/nr/article3/29344.html
2) The original article –  http://www.pri.org/stories/2013-06-24/vegan-lunch-going-meatless-beijing
3) Gingko Tree – vegan restaurant – http://www.happycow.net/reviews/gingko-tree-beijing-30749
4) More about Long Kuan – a nice 2008 blog post – http://cfensi.wordpress.com/2008/12/16/long-kuan-the-queen-of-lohas/
Comment via Facebook