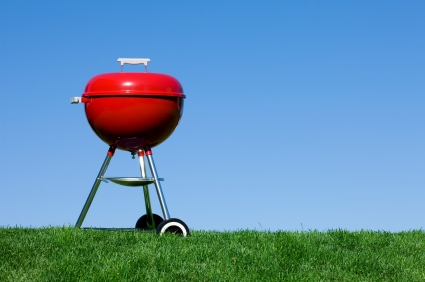 The dog days of August are almost behind us and, as much we don't want to think about it, summer is coming to an end. Labor Day is coming up, and soon boats and lawn furniture will start to be stored away. However, there's still time for outdoor cooking (and, of course, many more months depending on where you live).
Being vegan and hosting or attending barbecues doesn't mean you have to resort to hummus and chips while others flip burgers and dogs. In addition to countless off-the-shelf veggie burger options, there are many homemade recipes that will satisfy any sun scorched vegan and perhaps surprise an omnivore or two.
Depending on your vegan level (1 = just starting out, still owns leather; 10 = stops crossing the street in their vegan Birkenstocks to let an ant have right-of-way), you may want to consider cooking on your own, meat free, grill. Or, at a minimum, cook your food on foil, still allowing for that rich, outdoor smokiness to seep into whatever you're making.
This summer I tried my hand at three recipes that were perfect for a picnic: carrot hot dogs, black bean burgers, and pulled "pork" made from jackfruit. All three are simple to make, can be made a day in advance, and are a perfect addition to any grilling event.
As an aside, I like to remind my omnivore friends that the only reason their meat "tastes good" is because they rub it and oil it and slather it with 100% vegan condiments. Unknowingly, when they say "mmmmm" after each bite, what they are actually tasting is vegan. But I digress.
Vegan hot dogs are a hoot and fun to make. Taking the fattest carrots you can find, peel them and "carve" the ends to appear rounded. There is the start of a vegan carrot hot dog. These chiseled carrots are boiled for 20 minutes (to soften) and then they spend the night (24 hour minimum and maximum) in an airtight bag soaking in Braggs, spices, smoked paprika, garlic, etc. until they are pan fried the following day in the reserve marinade. They immediately look like hot dogs after only a few minutes of browning. Bring the finished dog to the grill to heat up and eat on a vegan roll covered in your favorite toppings. Mustard, ketchup, and relish are mine but you can pretty much do anything on these. You can do Google search for this recipe for exact measurements.
I have always made amazing black bean burgers and these thick patties are just as juicy and packed with more protein than their beefy counterpart. Start with a can of organic black beans, rinsed and poured into a large bowl. Smash the beans with the back of a fork until the texture mimics ground beef. Add a ¼ cup of seasoned bread crumbs, 2 vegan eggs (egg substitute), 2 T. BBQ sauce, dash of chili powder, finely chopped small onion, 2 chopped garlic cloves and salt and pepper to taste. If the mixture is dry, add a little sesame oil.
The key with these burgers is to pan fry them in some sesame oil in advance. Roll them into decent sized balls and lower into a hot pan with ⅛ of oil. It should sizzle when it hits the pan. With a lightly oiled spatula, slowly flatten until it is the diameter you want. Cook on each side for at least 4-5 minute to get the outside really crisp and hard (this way they don't fall apart on the grill). Refrigerate until the day of the BBQ.
The most interesting recipe I tried this summer was the pulled "pork" made from canned jackfruit. You can purchase jackfruit at most Asian markets and it comes in a can. You want to make sure you buy the "green/unripened" variety as this fruit sweetens as it ripens (and the green fruit is pretty much taste-free). I bought two cans and this made enough pulled "pork" for ten people. We served it with grilled peppers and onions, some salsa, and vegan sour cream. We made "grill-side" soft tacos and it was delicious!
Inside the can you'll find 15 or so triangular fruit sections that need the "knuckle" end cut off. This leaves you with a softer, flaky "meat" that falls apart and you can spice up however you like. I used chipotle sauce, a variety of spices, some organic tomato paste, and a thinly sliced onion. The darker ingredients you use (like molasses, if you want it to be a little sweet) will make the finished product look more like pulled pork.
Mix all your ingredients in a large bowl and then saute the jackfruit in a little olive oil over the stop to darken and crisp some of the edges. You can cook this down for almost ½ hour as all the flavors sink further into the jackfruit. Once done, you can store in the refrigerator or immediately wrap it in double foil to place on the grill. While everything else is grilling (like portobello mushroom steaks), your jackfruit will take on that undeniable taste of summer!
Enjoy and go vegan.
About the author: Eric C Lindstrom is a global marketing, design, and social media expert and an ethical vegan. In 2014, Lindstrom founded ThankTank Creative, a socially-just, environmentally-conscious, and vegan design and marketing firm that targets like-minded businesses around the world. For more information, please visit ThankTankCreative.com or like them on facebook.com/thanktankcreative and follow on Twitter @ThankTankCr8. Lindstrom also writes for the popular MeatyVegan.com blog and lives in Ithaca, New York, with his wife, two children and vegan dog. Go vegan.
Image source: Grill | bornfreenorthernvirginia
Comment via Facebook