In their most basic form, sticky rice balls are made with boiled short grain rice.
Short grain rice is different from the more commonly eaten long grain rice. Its glutinous or sticky texture causes the cooked grains to stick to one another; making this a perfect product for making products like sushi or an Italian rice risotto. While cooking long grain rice requires 2 parts of water to 1 part rice, short grain rice requires 3 parts water to 1 part rice.
In the western tradition, you can either cook this rice by combining rice and water in a sauce pan, bringing it to a rolling boil, covering it with a lid, and dropping the temperature to a low simmer. The rice will cook in 20 minutes. If making an Italian risotto, you add a cup of flavorful liquid to the rice. As the liquid cooks off, you stir in another cup. This process is repeated until the rice is tender and most of the liquid has cooked off.
This recipe uses the Thai cooking method which is quite different from the western technique. I first learned how to make sticky rice when I lived in Thailand. When I was a boy in the days before the internet, cable TV, and video games, I used to pass the time watching our cook, Brateeth, prepare simple rustic meals in the kitchen. Brateeth got to practice her English and I was indulged with the occasional tasty morsel.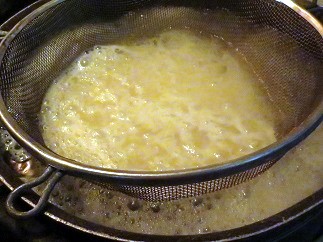 Our cook's method of cooking sticky rice involved soaking the grains for an hour prior to cooking. She then put the rice in a mesh colander and placed the colander in a pot of boiling water. The rice cooked for 20 minutes.
Cooking sticky rice this way is nearly fool proof. You don't have to constantly watch the product as you do when you're making risotto. So long as you make sure that there's enough boiling water to cover the cooking rice, you don't have to worry about burning the rice because the liquid cooked off too quickly.
When you're finished cooking the rice, place the mesh colander in the sink or over an empty pot to drain. After the rice has drained, use a 1/3rd oz. scoop to form balls. Use the bottom of a teaspoon or dinner spoon to firmly press the rice into the scoop.
Sticky rice goes well with curry, brown gravy, mushroom gravy, or a Japanese tare sauce which is made with toasted sesame seeds, Teriyaki sauce, and rice wine.
Sticky rice can also be combined with other ingredients. When combined with sliced Shitake mushroom, ginger, garlic, mushroom soy sauce, and chopped stir fried vegetables, you can make rice cakes. The Chinese typically wrap these cakes in banana leaves and steam them for about 30 minutes. Once steamed, they can be shaped into balls with a portion scoop or molded into ramekins prior to serving.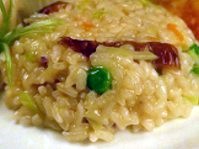 You can also grind short grained rice. This evening I put a cup of cooked sticky rice in a food processor to which I added coconut milk, coconut milk powder, and chia seeds. If you're not familiar with chia seeds, they look a lot like tiny black poppy seeds. They're an excellent source of omega fatty acids which are also found in fish. They're filled with protein, minerals, vitamins, and are a source of soluble fiber. Chia seeds were eaten by ancient Aztec warriors as a staple along with corn and beans.
I ground the mixture and used a 1/3rd oz. scoop to portion sticky rice balls. I put the rice balls in a steamer and cooked them for 30 minutes. While the rice balls were cooking, I made a Japanese tare sauce.
The sticky rice came out tasting like coconut rice. Since this product is more dense than cooked rice which has been pressed together, it can be eaten as finger food and dipped into an accompanying sauce or gravy. I enjoyed my coconut rice balls with a Japanese tare sauce. This combination paired well with grilled vegetables.
The recipe for this product along with sticky rice cakes and tare sauce will be included in my new upcoming e-book from Amazon: The Unintentional Vegan – Salads, Dressings, Dips, and Appetizers. This book will be published by the first week of July, 2013.  Included in this volume will be 9 other recipes for Chinese dim sum, 3 sushi, 3 Tex-Mex, 6 salads including a recipe for fruit gelatin, and various American favorites including a recipe for onion rings, buffalo wings, and sliders.
David Chin
Comments from Facebook Users